Call for Program Proposals
Third Annual New England Latino Student Leadership Conference
La Conferencia de Nuestra Gente
Striving Toward Our Destiny: Using Our Past and Present to Build the Future
Hosted by the College of the Holy Cross
February 18 & 19, 2005
The New England Latino Student Leadership Conference Committee is happy to invite interested individuals to submit proposals for presenting educational sessions during the conference. The defined educational tracks listed below can be used as a guideline in formulating your proposal. Please submit your proposal using the on-line program proposal submission form. Thank you.
All submissions will be examined and you will be notified concerning acceptance.

Educational Tracks:
1) Reaffirming my Identity / Becoming a Latino Leader
A big part of being a college student is the journey in developing an identity that is independent from family and/or school. Educational sessions for this track can focus broadly on issues of identity development and growth, as well as specific challenges in defining and taking ownership of Latino/Hispanic identity and heritage. Session content can also address the challenge of acceptance and taking pride in ones cultural background given negative stereotypes and complicated histories.
Educational sessions for this track can also focus on issues and challenges related to becoming a Latino Leader. Students all face difficult decisions when it comes to taking a leadership role in campus life. Sessions can focus on balancing academic responsibility and campus/social involvement. Many times these two areas are a constant struggle for student leaders. Issues for possible examination are defining a balance of these areas of student leadership, determining the value of extra-curricular activities, and keeping an eye on the prize: graduation.
2) Implementing / Strengthening our Latino Campus Organizations/Initiatives
The absence of Latino organizations/initiatives at some schools is difficult for some students because many times it also means the absence of support and cultural solidarity. This reality can be complicated by the absence of Latin American or Latino Studies on campus. Educational sessions for this track can focus on beginning a Latino campus organization/initiative. Issues for possible examination are defining the need for a Latino organization/initiative, gaining student support, gaining faculty and administrative support, and collaborations with other area campuses, etc.
Educational sessions for this track can also focus on strengthening Latino campus organizations/initiatives. Establishing a Latino organization/initiative on campus is a big accomplishment. Being able to strengthen, improve, and sustain them presents a whole new set of challenges. Issues for possible examination are networking, faculty involvement, defining meaningful campus activism on Latino issues, programming and events to meet and address membership needs, building membership, joint events/co-sponsorship with other organizations, etc.
3) Stepping out and Reconnecting with our Latino Communities.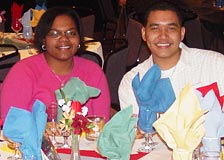 Do Latino student leaders have responsibilities to their local Latino communities? Being a college student sometimes means being disconnected from our local Latino communities. Educational sessions for this track can focus on ways of reconnecting with the community both while a student and post-graduation. Issues for possible examination are beginning off-campus initiatives in the Latino community, recognizing community needs, Latino public policy and politics, the present and future of Latinos in business, and furthering Latino education, etc.