is an atypical study abroad program. It is a demanding academic and intense cultural experience designed for highly motivated students with interests in various aspects of South Asian cultures and societies. Past students have found it challenging in many ways: intellectually, emotionally, socially, and physically.
---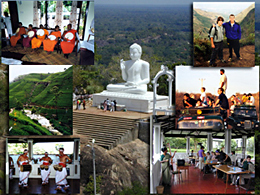 Sri Lanka Map
World Factbook on Sri Lanka
ISLE is located in Sri Lanka, a politically turbulent but socially congenial and astonishingly beautiful country located on a tropical island (the size of West Virginia) in the warm waters of the Indian Ocean, just off the southern tip of India. Its Sinhala Buddhist culture is the oldest continuing Buddhist civilization in the world, yet modern Sri Lanka is a very diverse and extraordinarily complex society. Economically, it is a developing nation. Politically, it is democratic.
Since 1982, ISLE has introduced over 280 American undergraduate students from Bates, Bowdoin, Carleton, Colby, Grinnell, Holy Cross, Swarthmore and Whitman colleges to Sri Lanka's history, archaeology, environment, society, religion, literature, language, politics, economics, and art. Many ISLE students have subsequently returned to Sri Lanka for further studies on Fulbright grants or within the context of graduate study programs in the humanities and social sciences.

ISLE Program Info (PDF format)

Visit The Isle Program web site
E-Mail To Prof. Todd Lewis