---
KNIGHTS OF COLUMBUS
Council 2706
College of the Holy Cross
Worcester, Massachusetts
---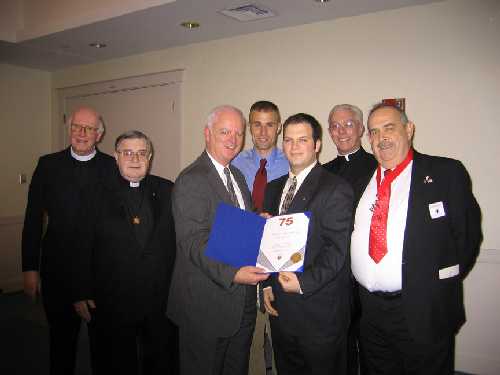 75TH ANNIVERSARY OF CRUSADER COUNCIL
On March 27,2004, State Secretary Richard F. Guerrierro presented the Diamond Anniversary
Certificate signed by Supreme Knight Carl A. Andersen to Grand Knight Christopher C. Koutros with Rev. William J. O'Halloran, S. J., Trustee, Rev. Vincent A. Lapomarda, S. J., Chaplain &
Financial Secretary, Deputy Grand Knight James G. McKeon, Rev. Charles B. Connolly, S. J., Trustee, and Deacon Joseph Baniukiewicz, District Deputy.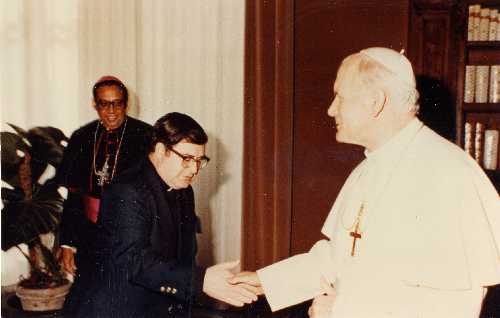 Rev. Vincent A. Lapomarda, S. J., being received in private audience at the Vatican by
Pope John Paul II, on October 28, 1982, with
Bishop Lawrence A. Burke, S. J., of Nassau in background.
---
THE COUNCIL CHARTER
Crusader Council is the third oldest college council in the Knights of Columbus, after Notre Dame in Indiana and St. Mary's in Maryland. Having celebrated its seventy-fifth anniversary in 2004, it is has for this period been the oldest college council in New England. This is a copy ofthe original charter.
BACK TO THE TABLE
---
THE EXECUTIVE
Moderator: Rev. Vincent A. Lapomarda, S.J.
Grand Knight: Matthew J. Fonte '11
Past Grand Knight: Raymond J. Provo '09
Chaplain: Rev. Vincent A. Lapomarda, S.J..
Deputy Grand Knight: Kenneth R. Jordan '12
Associate Chaplain: Rev. Charles J. Dunn, S. J.
Chancellor: Michael J. Barone '11
Recorder: Frederick K. Gambke '10
Financial Secretary: William J. Conley.
Treasurer: Eric J. Borrow '10
Lecturer: TBA
Advocate: Anthony E. Ardito '10
Warden: TBA
Inside Guard: Steven J. Brusca '10
Outside Guard: Brian F. Morgan '11
Trustees: Rev. Charles B. Connolly, S.J. (1))
Paul V. Phillipino '08 (2)
Miguel Juarez '09
District Deputy: James J. Boulette (N/A)
Insurance Agent: Paul Faford
Council Historian: Rev. Vincent A. Lapomarda, S.J..
SUPREME KNIGHT CARL A. ANDERSON
---
Council Activities
Crusader Council has been very active in the Worcester area. In recent years, it has participated in the Matthew 25 Program, done volunteer work at Sacred Heart Church, run food drives, distributed turkeys for the needy at Thanksgiving, and taken candy to children in local hospitals. Its members also act as greeters at Mass, and do the Stations of the Cross during Lent. Also, the Council supports a variety of charities at home and abroad, in addition to pro-life programs and the Catholic media ministry (see SPECIAL HIGHLIGHTS below).
Click here to view a letter written by Pope John Paul II, addressed to the Knights.
---
COUNCIL HISTORY
Click here to see photos of our founder and past Supreme Knights.
Crusader Council No. 2706 of the Knights of Columbus was born on March 26, 1929, and included almost 140 charter members. It was the very first council in the order organized on a Jesuit college or university campus. Its founder was John J. Spillane, a teacher and an assistant dean of discipline, who graduated from Holy Cross College in 1922 and had been active in the Alhambra Council in Worcester. Equally significant is Father Joseph F. Busam, a Jesuit biology professor at Holy Cross College for forty years, who developed the Crusader Council.
Under John Spillane's leadership, the Crusader Council numbered as many as one fourth of the student body at Holy Cross. Its activities included dances, dinners, and debates, and, at times, the publication of a monthly magazine, The Crusader. Throughout those first twelve years of its existence, the Crusader Council grew in prestige among the college councils in the country precisely because of the leadership of John Spillane who served as its Grand Knight in the opening years.
Following the outbreak of World War II, the Crusader Council became dormant. Not only had death deprived it of the leadership of John Spillane but the world war had so affected the regular routine of campus life that it was impossible to have regular meetings. Consequently, Crusader Council survived on the books with William J. O'Connell as Grand Knight, Francis L. Miller as financial secretary, and Frank Gallagher as treasurer.
With the return of normal times in the postwar era, Father Busam, who had supervised the activities of the council during its dormant years, revived the Crusader Council with the encouragement of State Deputy John W. McDevitt and Charles A. Grant, a faculty member who took on the duties of Grand Knight. Just as Alhambra Council was instrumental in giving birth to Crusader Council by taking charge of the initial degree, so too did Marlboro Council play a similar role in the revival of Crusader Council.
The leadership of Father Busam in the next forty years of the council has been exceptional. As John Spillane is the layman who sponsored more men for membership in the Knights of Columbus than any other layman in history, so too Father Busam is perhaps the clergyman who sponsored more men for membership in the Knights of Columbus than any other clergyman in its history, especially as the council's chaplain and financial secretary for many years.
The record of Crusader Council of the Knights of Columbus continues to be an enviable one. It has helped the handicapped, the needy, and the orphans. It has joined with the council at Notre Dame University in founding the National Collegiate Council of the Knights of Columbus. And it has maintained a steady membership of about 350 members (including at least forty students enrolled at Holy Cross during the 2004-2005 academic year) dedicated to charity, fraternity, patriotism, and unity during the half century since its revival. Having celebrated its seventy-fifth anniverary on March 27, 2004, it is still flourishing.
Vincent A. Lapomarda





Past Grand Knights
1929-1933 John J. Spillane
1933-1934 William J. Dozois
1934-1935 Paul E. Murphy
1935-1936 John L. McDonald
1936-1937 John W. Whitfield
1937-1938 Joseph F. McDonnell
1938-1939 Felix J. Cerrato
1939-1940 James B. Casey
1940-1941 James J. Armstrong
1941-1947 William J. O'Connell
1947-1948 Charles A. Grant
1948 (Fall) William F. Goepfrich
1949 (Spring) Lawrence X. Dalton
1949-1950 Richard A. Madden
1950-1951 Charles C. Cashman
1951-1952 Gerard T. Guerinot
1952-1953 John W. Spillane
1953-1954 William C. O'Toole
1954-1955 Patrick F. Golden
1955-1956 John J. Tobin
1956 (Fall) John M. Bowen
1957 (Spring) Paul V. Gearen
1957-1958 Braden A. Mechley
1958-1959 Edward C. Furey
1959-1960 Charles R. Comeau
1960-1961 John J. Collins
1961-1962 John F. Fox
1962-1963 Hugh B. McCormick
1963-1964 William J. Bleichert
1964-1965 William R. Admirand
1965-1966 Richard R. Blaber
1966-1967 Joseph J. Niedenbach
1967-1968 Robert M. Coerrenti
1969 (Spring & Fall) John J. Blewitt, Jr
1970 (Spring & Fall) Lester J. Sheehan, Jr
1970-1971 Stephen I. Caron
1971-1972 John P. Crane
1972-1973 Leon J. Croteau
1973-1974 Bruce G. Cassidy
1974-1975 Brian A. Hetrick
1975-1976 William M. Friedrich
1976-1977 Thomas M. Dickinson
1977-1978 Russell F. Neary
1978-1979 Robert J. Rubsam
1979-1981 Jude A. Curtis
1981-1983 Lawrence F. Eagan
1983-1984 James J. Connolly
1984-1985 William J. Keefe
1985-1986 John J. Hexamer, Jr
1986-1987 Joseph A. Katarincic, Jr
1987-1988 Thomas J. Benison
1988-1989 John J. Spillane
1989-1990 J. Thomas Dooley
1990-1991 Joseph W. Spillane
1991-1992 Timothy P. Mooney
1992-1993 James G. Whitehouse
1993-1994 Alfio Fichera
1994-1995 Matthew P. Spillane
1995-1996 Michael J. Whitehouse
1996-1997 Michael J. Spillane
1998 Ralph J. Covino
1998-1999 Robert C. King
1999-2000 John W. Janek
2000 (Fall) Sean P. Hanlon
2001 (Spring) Brad M. Andersen
2001-2002 Mark Lagace
2002-2003 William J. Kenney
2003-2004 Christopher C. Koutros
2004-2005 James G. McKeon
2005-2006 Edward A. Ready, Jr.
2006-2007 Christopher J. Micik
2007-2008 Paul V. Phillipino
2008-2009 Raymond J. Provo
BACK TO THE TABLE
---
COUNCIL SIZE
The Crusader Council currently counts over 200 active members, of whom about twenty percent are undergraduates at Holy Cross.
---
Contact Information
For questions and further information about the Crusader Council, please contact Rev. Vincent A. Lapomarda, S.J. via e-mail: vlapoma@holycross.edu
---
AWARDS
The Crusader Council has recieved many awards over the years, including::
1970 Outstanding College Council Award (Runnerup)
1975-76 Columbian Award
1979-80 Contest of Champions Award
1995-96 Father McGivney Award
1996-97 Outstanding College Program
1997-98 Award of Merit (Outstanding College Council Contest)
2000 Massachusetts State Council Table Tennis Championship
2002 Outstanding College Council Award (Participant)
2004 75th Anniversary Award
2005-06 Youth Award
2006-07 Youth Award
2007-08 Anthony F. Ciampi SGA Award
2008-09 More Awards
The Crusader Council was also awarded the Community Service College Council Award for Outstanding Service by the Supreme Council a year or so before the close of the Second Millennium of the Christian Era.
---
DEGREE TEAMS?
Being a college council that lacks the continuity of one established in a parish, Crusader Council 2706 relies on Leicester 4528 or other neighboring councils for the induction of new members.

---
SPECIAL HIGHLIGHTS
Crusader Council supports a number of charities every year. During the period from 2000-2005 it supported a variety of charities like the following with an annual disbursment of more than a thosuand dollars a year: APPALACHIA SERVICE PROJECT; THE CARDINAL TARDINI CHARITABLE TRUST; CATHOLIC MEDICAL MISSION BOARD, INC.; CATHOLIC RELIEF SERVICES;THE CARDINAL KUNG FOUNDATION; THE DAILY MASS & THE FAMILY ROSARY; THE ETERNAL WORD TELEVISION NETWORK; FOOD FOR THE POOR, INC.; FREE THE FATHERS; HABITAT FOR HUMANITY; HOLY CROSS MEXICO PROGRAM; THE KOREAN WAR MEMORIAL OF CENTRAL MASSACHUSETTS, INC.; MARTYRS' SHRINE; THE MASSACHUSETTS CITIZENS FOR LIFE; PROBLEM PREGNANCY, INC.; QUEEN OF THE AMERICAS GUILD; THE SACRED HEART PROGRAM; and the VATICAN OBSERVATORY FOUNDATION; and other causes, charities, and programs in the past, including the WORCESTER FIREFIGHTERS' FUND.
---
THE KNIGHTS OF COLUMBUS:
THE SAINTS AND BLESSED

THE SAINTS:
Bishops
+ St. Raphael Guizar Valencia (1878-1938) +
Priests
+ St. Rodrigo Aguilar Aleman (1875-1927) +
+ St. Luis Batiz Sainz (1870-1926) +
+ St. Mateo Correa Magallanes (1866-1927) +
+ St. Pedro de Jesus Maldonado Lucero (1892-1937) +
+ St. Miguel de la Mora de la Mora (1874-1927) +
+ St. Jose Maria Robles Hurtado (1888-1927) +
Laity
+ St. Salvador Lara Puente (1905-1926) +
THE BLESSED:
Priests
Blesssed Andres Sola y Molist (1895-1927)
Blessed Jose Trinidad Rangel Montano (1887-1927)
Laity
Blessed Leonardo Perez Larios (1883-1927)
Blessed Carlos Manuel Rodriguez Santiago (1918-1963)
THE SERVANT OF GOD:
Venerable Father Michael J. McGivney (1852-1890)
(Recognized by Pope Benedict XVI, March 15, 2008)
*****
OTHER DISTINGUISHED MEMBERS:
Among the distinguished members of Crusader Council are the late Former Governor of Pennsylvania Robert P. Casey (1932-2000), Worcester School Committeeman Brian A. O'Connell, Retired Massachusetts Superior Court Justice Herbert F. Travers, and the late Attorney John W. Spillane, the son of the Council's founder (John J. Spillane) and the father of four of its Past Grand Knights (John, Joseph, Matthew, and Michael). _____________________________________________
WHEN WE MEET
Crusader Council meets officially every other Wednesday on class days in the evening at 9: 00 P. M., in one of the available rooms in Hogan Campus Center at Holy Cross..

---
OTHER INFORMATION
Rev. Edmund K. Cheney, S. J. (1910-2003) Faithful Friar of the Bishop O'Reilly Fourth Degree Assembly, has served as the Council's Associate Chaplain until 1999 when he became the Council's Associate Chaplain Emeritus before his death on November 9, 2003.

Crusader Council is one of more than 200 councils in the jurisdiction of Massachusetts under the leadership of State Deputy Richard F. Guerriero. For more about the Knights of Columbus, consult the file of the Dinand Library for relevant histories on the local, state, and national levels. One of these works is by Fr. Lapomarda who is also the State Historian of the Massachusetts Knights of Columbus.

*MAJOR EVENTS OF THE FRATERNAL YEAR 2009-2010:
College Conference (September)
Annual Pro-Life Day (Fall)
Lantern Award (Patriot's Day).
Massachusetts State Convention (May).
Fourth Degree Exemplification (Spring).
Supreme Convention (Summer).
---
WHO CAN BECOME A KNIGHT?
Membership in the Knights of Columbus is open to practical Catholic men in union with the Holy See, who shall not be less than eighteen years of age on their last birthday. A practical Catholic is one who lives up to the Commandments of God and the precepts of the Church. Application blanks are available from any member of the Knights of Columbus. Every knight is happy to propose eligible Catholic men for consideration as members.

Acceptance of the applicant depends upon a vote of the members of the subordinate council in which he is making application.

All priests and religious brothers having duly made application for membership and participated in the ceremonials become honorary life members of the Order and are exempt from payment of dues.

Application for membership must be made through the council in the community nearest the applicant's place of residence. Interested prospects without a permanent domicile, such as men temporarily away from home through duty in the armed forces, may make application through their hometown council or at the nearest council on a military base.

If favorably voted upon, the applicant becomes a member by initiation known as the First Degree. He subsequently is advanced through the Second Degree and the Third Degree.

There are modest initiation fees and dues set by subordinate councils under regulations established by the Supreme Council. The insurance privileges are available to all members who can qualify, which represents an important advantage of membership. For men in every walk of life the name Knights of Columbus engenders the image of a united organization, efficiently going about it tasks of charity, unity, fraternity, patriotism and defense of the priesthood. It is composed of men who are giving unselfishly of their time and talents in service of God and their country.

Membership in the Knights of Columbus provides opportunity for wholesome association with congenial companions who are, first of all, practical Catholic gentlemen. It offers the opportunity for fellowship with those who are of the same belief, who recognize the same duty to God, to family and to neighbor and who stand side by side in defense of those beliefs. Programs are so organized as to appeal to the individual interest of the members. Through many constructive activities of Christian fraternity, members are enabled to render service to their Church, their country and their fellowman. Through membership they develop a consciousness of their ability to lead and to assist.

Organized Columbianism, united behind the individual Knight of Columbus, provides the power of an intelligent, alert body of Catholic men--a strength which the individual by himself cannot achieve.

Knights of Columbus has a proud heritage. The qualified Catholic man can share in that heritage and build an even greater future by affiliating himself with this forceful, effective body.
The Patriotic Degree
Another degree open to members of the Knights of Columbus is that of the Fourth (or Patriotic) Degree. On February 22, 1900, the first exemplification of that degree was held in New York City. The ritual added patriotism to the three original principles of the Order: charit, unity and fraternity. Any Third Degree member in good standing, one year after the anniversary of his First Degree, is eligible for membership in the Fourth Degree.

The primary purpose of the Fourth Degree is to foster the spirit of partiotism by promoting responsible citizenship and a love of and loyalty to the Knights' respective countries through active membership in local Fourth Degree groups called assemblies. Fourth Degree members must retain their membership as Third Degree members in the local council to remain in good standing.

Certain members of the Fourth Degree serve as honor guards at civic and religious functions, an activity which has brought worldwide recognition to the Knights of Columbus organization.

---
OTHER INTERESTING SITES
Beatified Knights of Columbus, Priests for Life, Canada A Pro-Life Canada Index, The Ultimate Pro-Life Resource Page, The Vatican, Canadian Catholic Conference of Bishops (CCCB) (for Canadian Catholic Churches On-Line, Directories, etc.), American Churches On LineCatholic On-LineCatholic Organizations, International Order of Alhambra, The Cause of Sebastian Râle (1652-1724), The Cause of Pope Pius XII, Religion & the Founding Fathers, and The Major Persecutions of the Catholic Church in the Twentieth Century.
Last update: August 31, 2005.
---
"VIVAT JESUS"
BACK TO CRUSADER COUNCIL HOMEPAGE
BACK TO HOLY CROSS COLLEGE'S HOMEPAGE
________________________________________________________________________________
CHAPLAINS
Rev. John D. Wheeler, S. J. (1929-1931)
Rev. Patrick J. Cummings (1931-1932)
Rev. Joseph F. Busam, S. J. (1932-1980)
Rev. Vincent A. Lapomarda, S. J. (Since 1980)
FINANCIAL SECRETARIES
Mr. John J. Brosnan, (1929-1930)
Mr. Francis L. Miller (1930-1950)
Mr. Robert S. Crowe (1960-1969)
Rev. Joseph F. Busam, S. J. (1969-1979)
Rev. Charles B. Connolly, S. J. (1979-1984)
Rev. Vincent A. Lapomarda, S. J. (1984-2006) +
Mr. William Conley (Since 2006)
+ (Acting F. S.. 1982-84)

_______________________________________________________________________________
Updated September 14, 2007