Cultures of the Himalaya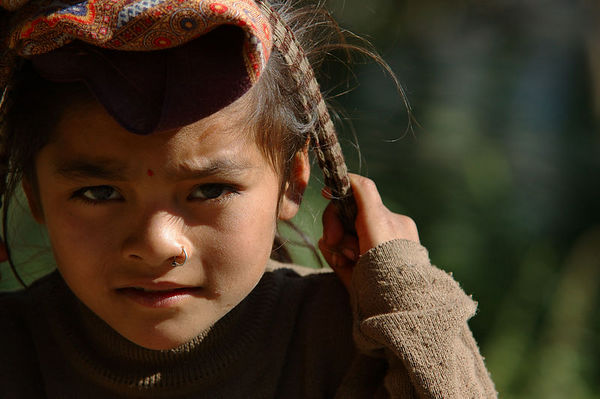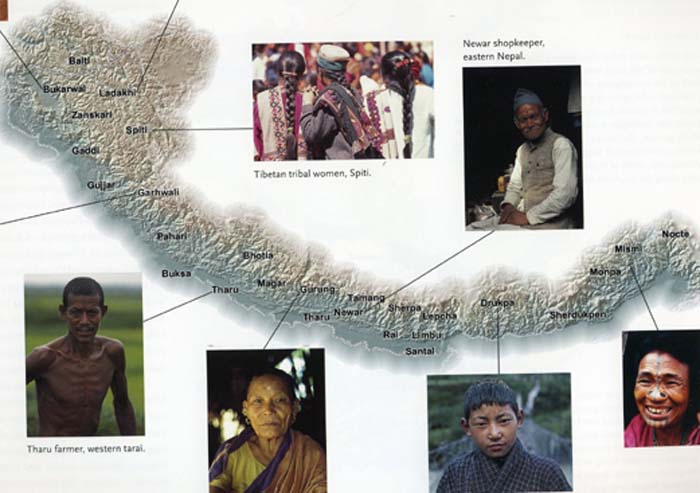 Cultural Map of the Himalaya
Source listed below.
Sherpa
An important part of Matthiessen's experience in The Snow Leopard is the friendship he develops with Tukten Sherpa, a porter in his group. He says of Tukten, "I love to watch our evil monk with his yellow Mongol eyes and feral ears, ...One day I will ask this yellow-eyed Tukten if, in some other incarnation, he has not been a snow leopard, or an old blue sheep on the slopes of Shey..." (242). Matthiessen often describes Tukten with words like "guru", "Bhodhisattva", and "monk". Why does he describe the man this way? Is it genuine admiration or stereotype? Learn more about these people and then consider these questions.

Mountaineer Appa Sherpa -- he holds the world record for successful Everest ascents at sixteen! His most recent ascent was May 19, 2006. (Photo (and above map): Zurick and Pacheco. Illustrated Atlas of the Himalaya, 2006.)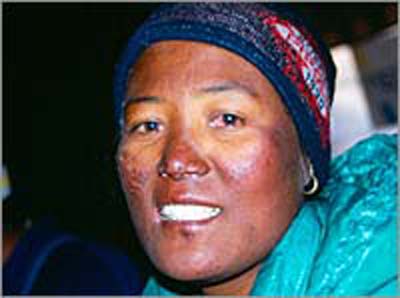 Pasang Lhamu Sherpa was the first woman from Nepal to summit Mt. Everest and the 17th woman overall. She died during her descent in 1993 and has since been adopted as a national hero.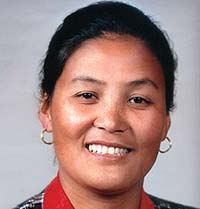 "I know this mountain because I am this mountain, I can feel it breathing at this moment, as its grass tops stray against the snows." (The Snow Leopard 257)
Sherpa is the Tibetan word for "easterner". It is believed that the Sherpa people came to Nepal from eastern Tibet in the 16th century and sustained themselves through farming and yak herding. After they became officially included in the defined territory of Nepal, the northern Khumbu Sherpa were given the important task of taking goods to Tibet over the Nangpa-La, one of the few accessible routes north. In the southern region, Solu Sherpa were doing well with potato farming. In the 1950s, with the Chinese invasion of Tibet, the trade routes north were closed, however at the same time, Nepal opened its doors to westerners who were more and more interested in trekking to the highest places on Earth. Sherpas began to work for these western adventurers as porters and guides. In mountain literature, Sherpas have been portayed as everything from lazy thieves to wise mystics to expert mountaineers. Sherpas are simply a group of people who are trying to get by in a very merciless part of the world. While the trekking industry has certainly brought prosperity to many Sherpa people, many others continue to farm and herd. As you can see from the above photos, Sherpa mountaineers are now recognized worldwide for their individual feats, rather than as the "porters" for prominent westerners seeking their own glory.
Student Activity 3
Coming Soon!