POMPEY. I am as well acquainted here as I was in our house
of profession: one would think it were Mistress
Overdone's own house, for here be many of her old
customers. First, here's young Mr Rash, he's in
for a commodity of brown paper, and old ginger,
ninescore and seventeen pounds, of which he made
five marks, ready money: marry then, ginger was not
much in request, for the old women were all dead.
Then is there here one Master Caper, at the suit of
Master Three pile the mercer, for some four suits of
peach colored satin, which now peaches him a
beggar. Then have we here, young Dizie, and young
Mr Deep vow, and Mr Copperspur, and Mr
Starve lackey the rapier and dagger man, and young
Drop heir that killed lusty Pudding, and Master
Forthlight the tilter, and brave Mr Shooty the
great traveller, and wild Half-can that stabbed
Pots, and I think forty more; all great doers in
our trade, and are now 'for the Lord's sake.'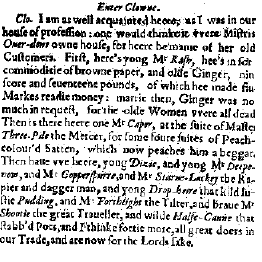 According to the Folio, Pompey's (clown's) speech is a soliloquy to the audience. Peter Brook, in his landmark production of 1950, however, brought out all the prisoners to great effect. How does this staging choice effect the moment. Does it lead to comedy or pathos? How and when should the prisoners be brought out? Is it proper to change what apparently is the intention of the author?