Click to go back to
the Church Diagram

Click to go back
to the Church View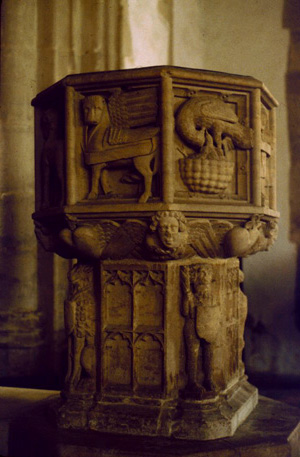 18b Norton (Suffolk), St. Andrew's Church, Baptismal font (without cover) early 15th century. Octagonal bowl (moving counterclockwise) Matthew (man with scroll), griffin, Mark (lion with scroll), double-headed eagle, John (eagle with scroll), unicorn, Luke (ox with scroll), and the pelican in its piety (piecing breast to feed young in the nest)
Supporting bowl, angels and winged hearts
At corners, clockwise, a wildman, goat, beast, and lion all with shields suspended on chest. These must once have been painted with family arms. See similar font in Suffolk at Bures, St. Mary, which has on the east the arms of England, and then clockwise arms of de Vere, Fits-ralph, Mortimer, de Cornard, Waldegrave, de Bures, and Mortimer of Clare. An early 15th century font at Wissington, St. Mary, shows armorial shields (H. Munro Cautley, Suffolk Churches (1982), pl. 75). See also early 15th-century font with shields at Litcham (Norfolk) and late 14th century font at Horsham St. Faith (Norfolk).