Click to go back to
the Church Diagram



Click to go back
to the Church View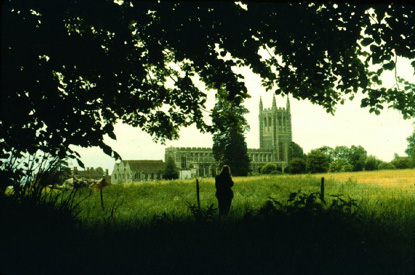 2a Long Melford, Holy Trinity Church, from the north (tower rebuilt).
Towers were a source of great pride for a village or parish. From the exterior the tower was the truly defining element of the landscape, seen from afar over meadow and pasture. From the interior, one of the most striking features was the great tower arch opening to the nave, allowing light to flood in from the west window. Towers house the church bells, documented in use for worship in England from the 6th century. One of the earliest extant bells is at Hadleigh, Suffolk, inscribed in Latin with the opening works of the prayer "Hail Mary, full of grace, the Lord is with thee." Bells were rung in proscribed sequences, called peals, to mark the type and level of solemnity for an event, for example, a local funeral or to accompany the Easter liturgy.
2b Countryside in Norfolk, near Mileham.