La Reina de la Salsa ... AZUCAR!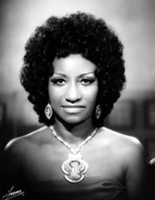 "Celia was an absolute pillar as a human being and one of the most unselfish humanitarians I have ever met and am sure I will ever have known." - Marc Anthony
Celia Cruz was born in a small village of Barrio Santos Suarez, Havana, Cuba as Ursula Hilaria Celia de la Caridad Cruz Alfonso. She came from a very poor family. She was a very humble and caring woman and was widely known and recognized all over the world as the voice of Cuba. She received many awards such as the Smithsonian Lifetime Achievement award, a National Medal of the Arts, honorary doctorates from Yale University and the University of Miami, and was also added to the collection in the Hollywood Wax Museum, to name a few. Celia Cruz is considered "the most important ambassador of Afro-Latin culture in the Diaspora" by the Encyclopedia of the African Diaspora.
Cover of the album titled Tributo a Ismael Rivera which she released in 1992 in honor of Ismael Rivera
Celia became connected with her black identity as a young girl in Cuba. Her fear in Santeria was influenced by her mother but she could not help but be drawn to the music and the Santeria ritual, bembé, which was held by her neighbor who was a Santera. Celia admitted that she felt the music called out to her which is why much of her music has some sort of African inspired concept which has given her the title of La Guarachera. Guaracha is a popular genre of Cuban music born out of Afro-Cuban religious rituals. Celia was always associated with being a Santera mainly due to the fact that black Cuban women, like her, were generally stereotyped as being involved with Santeria.
Celia Cruz is widely known for her music but also for her generosity, which is what has truly made her an icon worldwide. She worked along with Lourdes Aguila in the Liga Contra el Cancer Telethon and also offered to perform on a telethon, with her husband Pedro Knight, to help the victims and survivors of the earthquake that hit Mexico on September 18, 1985. Before Celia died she established the Celia Cruz Foundation to make sure that she was still being able to change people's lives even after she was gone. The mission of her organization is to aid underprivileged kids who dream of having a musical career and also is to raise money to help in the fight against cancer, which took the life of both Celia and her mother. Celia still remains alive through this organization and her work continues to help many years after she has left us.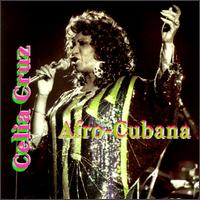 Celia's album titled Afro-Cubana that has a mixture of mambos, boleros, guarachas and Afro-Cuban songs.
For further information:
Matos, Gilda. Sonora Matancera, Celia Cruz.

Cruz, Celia. My Life an Autobiography, 2004.

Rodriquez Moreno, Juan A. La Reina es la Rumba, por siempre...Celia.
.