Although the Civil War began in 1861 (with the battle at Fort Sumter in April of that year), it was not until several years later that it really became the war "about" slavery familiar today's schoolchildren. Not until President Abraham Lincoln signed his famous Emancipation Proclamation on January 1, 1863 - freeing all slaves in rebellious states and territories - did sympathy with the Confederacy become synonymous with sympathy with slavery. Still, the complete and final abolition of slavery in America did not go into effect until 1865, with the 13th Amendment to the Constitution.
As the War stretched into 1862, growing numbers of freed southern slaves and free northern people of color demanded admission to the Army, to fight for the Union and for emancipation. However, a 1792 Federal law prevented African Americans from bearing arms in the military. Eventually, the combined pressures of insistent African American would-be-volunteers (supported abolitionist politicians such as the Massachusetts Governor John A. Andrew) and dwindling numbers of white volunteers resulted in the legalization of colored troops in the Army. On January 26, 1863, the Secretary of War, Edwin Stanton, authorized the enlistment of black soldiers, and in May 1863, the War Department's "General Order 143" established the Bureau of Colored Troops. By the end of the war, about 180,000 black men had enlisted in the Union Army (10% of all Union soldiers), and a further 19,000 had joined the Navy. African Americans would play a crucial role in the remainder of the Civil War.
One of the first and most famous of these new "Colored" fighting forces is the 54th Massachusetts Regiment. This regiment was formed in early 1863 - as with all of the Colored regiments, the 54th was to be led by white officers. Despite this racist policy, as well as the sub-standard wages of black soldiers (the wage difference was not corrected by the Federal government until mid-1864), the 54 th was overwhelmed by volunteers representing not only Massachusetts but also 23 other states, the District of Columbia, the West Indies, and Africa; the 55th Massachusetts Regiment was quickly formed to accommodate the excess troops. The soldiers came from a variety of backgrounds, and although most were farmers or "common laborers" by occupation, the colored regiments counted doctors, students, and other professionals among their troops - including two of Frederick Douglass's sons. They trained at Fort Meigs in Readville, Massachusetts, and sailed to South Carolina in late May of 1863, cheered on their way by an enthusiastic crowd of 3,000 in Boston. The young Colonel Robert Gould Shaw, from an elite abolitionist Boston family, led the 54th to the Department of the South that summer.
The assault on Fort Wagner outside Charleston on July 18, 1863 is the single most celebrated and admired action of the 54thRegiment, and represented a watershed in (Northern) public perception of African Americans ' roles in the military and in the country. The 54th was ordered to lead this dramatic and ill-fated nighttime attack on the Confederate bastion, supported by several other white regiments. However, the Confederate forces were better prepared than Union commanders had hoped, and the battle was essentially a miserable defeat for the Union forces. However, despite the failure of the assault (174 Confederate casualties vs. 1,515 Union dead or wounded, with the 54th suffering the heaviest losses), the 54th Regiment demonstrated legendary patriotism, bravery and valor (enthusiastically reported by northern newspapers). The fall of the beloved young Shaw, engaging in hand-to-hand combat at the parapet of the fort, has gone down in Massachusetts legend, along with the heroics of Sgt. William H. Carney (a freed slave) who, although wounded in both legs, the arm, and the chest, rescued the Union flag from the mud of battle and planted it in defiance on the Fort's parapet.
The 54th Regiment remained active throughout the war, along with the 5th Massachusetts Cavalry (another of the earliest colored forces - one in which the Worcester resident Amos Webber would serve (Salvatore), as well as the writers of the following letter. The role these regiments played in combating racism during the era of the Civil War can hardly be exaggerated; after African Americans proved themselves repeatedly in the fight for the Union, it would become much more difficult for Northern whites to justify classifying them as less than citizens. However, despite the tales of heroic exploits and battlefield drama, deeper insight can be gained into the real experience of the individual African American soldier through documents like letters home; we will now examine one such letter.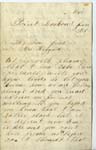 A Letter Home: Transcribed Document
[from Amos F. Jackson to Mrs. Dolly Hazzard, in Brookfield, MA]
1865
Point Lookout Jan 23
Md
My Dear friend
Mrs. Hazzard
It is with pleasure that I now take this opertunity write you a few lines to let you know how we are getting along and you must excuse me for not writing to you before you know that I am rather slack [?] but it is difrent now that Essi is here and you can't here from us as before so I thought that I would write and let you know how we wer getting along. We are all well, thank God. Alfred has got to keeping house out here and Lorenzo draws his rations and Essi cooks it for him so it makes it better for him for he gets it cook clean and it is better for him and he is getting fat. I am having verry good times here but I would like to come home and see you all once more. We have not had any verry colde weather hear Water has not frose more than one inch and a half thick here this winter and We have had about one / 2 inches of snow this winter here. But we have good deal of rain but it is not colde Essi and Alf are well and send there love to you [illegible] is well and harty. I have not got much news to write this time for I suppose that you know more about the war than I do for you can get papers and they tell you more than I can. Lorenzo is on guard to day he is well. Capt Howe reach here last night But I have not seen him but Alf sed that he had but not to speak to him. No more at present. Write me soon pleas and tell me how you and all the folks get alonge
I wish that you may have good health and may the Blessing of the Lord ever be pressent with you and prosper you in your undertakings and I ask you to pray for me for I need the prayers of the church that I may be more faithfull.
[postscript] Give my love to all inquiring friends.
From your true friend
Amos F. Jackson
([illegible])
(Corp. A. F. Jackson
(Co. F 5 Mass Cav
(Point Lookout
Md
Read Original Text
This letter of January 23, 1865 is written by a soldier stationed at Point Lookout, Maryland. The writer is Corporal Amos F. Jackson, of Company F of the 5th Massachusetts Cavalry; the addressee, Mrs. Hazzard, is known to be the mother of three brothers mentioned in the letter (Essi, Alfred, and Lorenzo) and a resident of Brookfield, Massachusetts . (Prof. T. Doughton, 3/2/04)
The letter begins with a formal opening ("My Dear friend… It is with pleasure that I now take this opertunity…"), followed immediately by an apology to Mrs. Hazzard for not writing sooner, and for being "rather slack." We then learn that someone named Essi has recently arrived at Point Lookout, altering the previous correspondence patterns between the writer and the addressee ("it is difrent now that Essi is here"). After this brief introduction, apology, and excuse, Jackson goes on to express the purpose of his letter: "I thought that I would write and let you know how we are getting along." Personal details follow: "Alfred has got to keeping house out here and Lorenzo draws his rations and Essi cooks"; apparently, this domestic arrangement of Amos, Alfred, Lorenzo, and Essi is so effective that one of them has even managed to start "getting fat" off the army rations at Point Lookout. Amos then reassures Mrs. Hazzard that he is "having verry good times here but… would like to come home."
The next section of the letter contains a wordy description of the dreary Maryland winter through the eyes of the rural Massachusetts resident: not too cold, only an inch or two of snow, but a "good deal of rain." After another quick reference to the "well" state of Essi and Alf and a message of their love, Amos informs Mrs. Hazzard that he has "not got much news to write this time," and that she probably knows more about the war than he -- an active soldier -- does, since she can "get papers and they'll tell you more than I can." Amos then explains why Lorenzo did not send his love with the other two above: he is "on gaurd today he is well." Amos then concludes his report of life at Point Lookout with by acknowledging the apparently significant arrival of "Capt. Howe" the night before, someone whom Amos himself has yet to see, although Alfred caught a glimpse of the officer ("but not to speak to him").
The final section of the letter consists of a request to Mrs. Hazzard for a quick reply with news of both herself and of "all the folks." Amos then wishes good health and the "Blessing of the Lord" upon his mother, and requests that both she and "the church" pray for him. In one of the few clues the writer gives about the pain of the experience of a soldier in the Civil War, he admits that he "needs the prayers… that I may be more faithfull." The letter is then closed "From youre true friend", with a last reminder in the margin to give his love to "all inquiring friends."
The 5th Massachusetts cavalry is the third "Colored" unit formed in Massachusetts during the Civil War (following the 54th and 55th Massachusetts Regiments), so we can infer that Amos Jackson and his three brothers are four of the thousands of African-American men from Massachusetts and other states who volunteered in overwhelming numbers to go South and fight against the Confederacy. We also learn that these men are stationed at Point Lookout, Maryland, the major detention center for Confederate prisoners of war. Like Amos Webber of Worcester, Amos F. Jackson and Mrs. Hazzard's three sons were stationed there in an admittedly tense situation where white confederate prisoners were guarded by African-American soldiers, some of them their former slaves (Salvatore 131-44).
Despite the lack of gruesome "war stories," the reader gains a sense of the life of wartime troops when they are not participating in the notoriously bloody battles: the human experience (moreover, the family experience) of active duty in the 1860's dominates this document. The writer describes his and his brothers' experiences "keeping house" and "cook[ing] clean," pooling their rations, checking in on their mother back home (the familiar "everything is fine" sentiment - expressed by children of all ages to worried mothers in every era - resonates with the modern reader), performing guard duties, and dealing with dreary weather and homesickness. Reinforcing the absence of "glory" in his letter, Amos Jackson comments (possibly with a note of bitterness, or at least annoyance) that his mother, isolated and far from the war in rural Brookfield Mass., could probably send him more news of the progress of the war than he could to her.
The factors of isolation, monotony, bland food, and vulnerability to local weather conditions, all would have helped to define the total war experience of individual soldiers as much as the heat of battle, the tragedy and horror of death, and the drama of liberating slaves did. Although descriptions of the former are not those usually associated with the war that eliminated slavery from the United States, they are still important descriptions because they provide us with a more complete and "real" understanding of these men, of whom many died fighting for their cause.
This primary document, a war letter from Maryland to Massachusetts written in the winter of 1865, provides an intimate peek into the day-to-day survival of African-American Civil War soldiers. One can ask, was their family (specifically, Mrs. Hazzard) supportive? Was it usual for brothers to serve together in this time and place, or were they more often separated in the army? How long had the Jacksons been away from home? Would they ever return, and if so, when? The letter provides, along with similar documents, a human "face" to the scholarship of the Civil War and insight into the personal experiences of its brave yet "ordinary " soldiers.
Bibliography
Africana.com web site, from Microsoft Encarta Africana content (http://www.africana.com/research/encarta/54threg.asp), "Fifty-Fourth Massachusetts Volunteer Infantry Regiment or Massachusetts Fifty-fourth Colored Infantry."
"Fifty-fourth Massachusetts Infantry" (http://extlab1.entnem.ufl.edu/olustee/54th_MS_inf.html)
HistoricalDocuments.com (copyright Americans.net) (http://historicaldocuments.com/WarDeptGenOrder143CreationofColoredTroops.htm), "Historic Documents and Speeches: War Department General Order 143: Creation of the U.S. Colored Troops (1863)."
Salvatore, Nick. We All Got History: The Memory Books of Amos Webber. Random House: New York, 1996.
LWF Publications. Source: Massachusetts' Adjutant General's Office, Massachusetts Soldiers, Sailors, and Marines in the Civil War, Vol. VI, Norwood: The Norwood Press, 1932. (http://www.coax.net/people/lwf/5th_mass.htm) "Fifth Regiment Massachusetts Colored Cavalry."
National Park Service website (http://www.nps.gov/boaf/54th.htm), "Black Bostonians and the Civil War: The 54th Massachusetts Regiment."