An apologia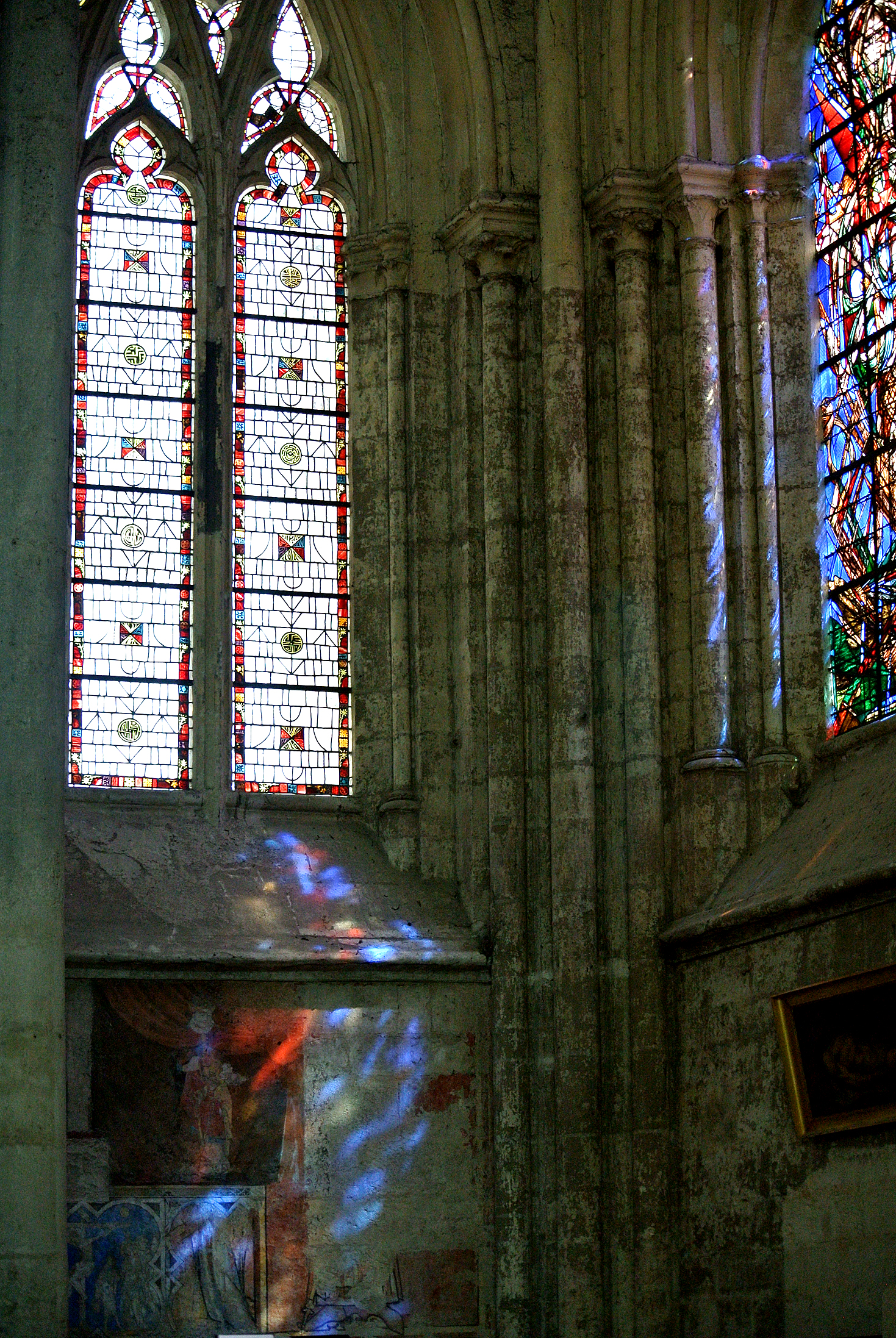 Color-washed wall,
southwest nave chapel,
Beauvais Cathedral, on right,
Claude Courageux, La Fontaine
de Vie, 1981, France.
Photo: author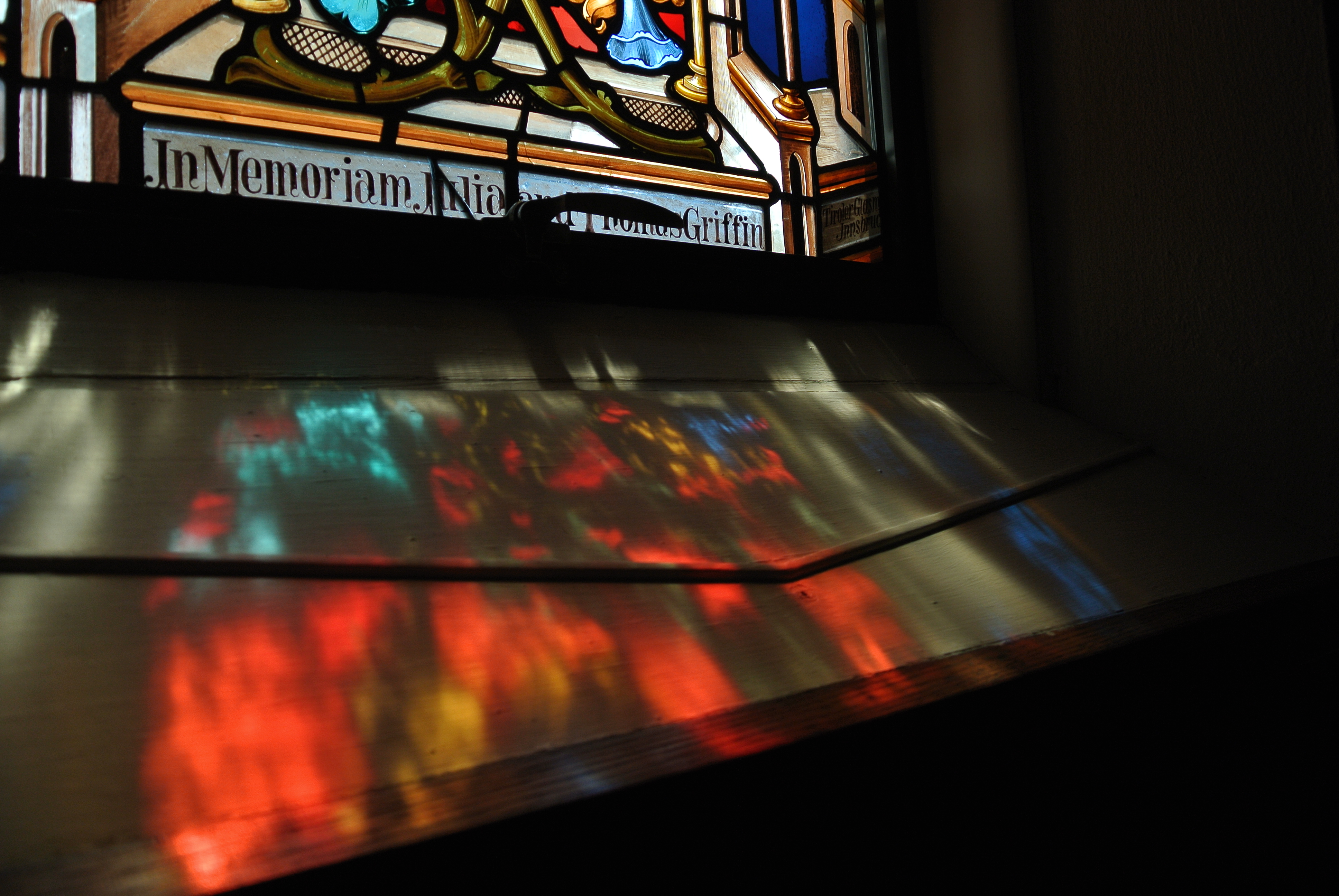 Color-washed window sill, St.
Joseph's Cathedral, Manchester,
New Hampshire. Photo: authorI confess that my original training as an art historian centered on the art of the Middle Ages, although a great deal of that study was in the subfield of stained glass. I benefited, however, from a mind-altering seminar at Yale with Jules Prown on the American painter John Singleton Copley. Politics, economics, patronage, and influence were key aspects of our inquiry concerning his paintings. The brilliance of this artist thrills me still, made even more compelling through an understanding of his artistic isolation in the yet-to-be born United States. These same questions drew me to the development of stained glass in America from its origins through the present day. This subject raises the same fascinating concerns about commissions, subject matter, and preferences for selective styles, to which was added the rich diversity of an immigrant population and the relationship of the stained glass designer to differing architectural contexts, and very often specific architects. Windows do not change hands, they relate to far more than a single client, and they deeply impact their setting long after their creation.
Cooperative art and cooperative appreciation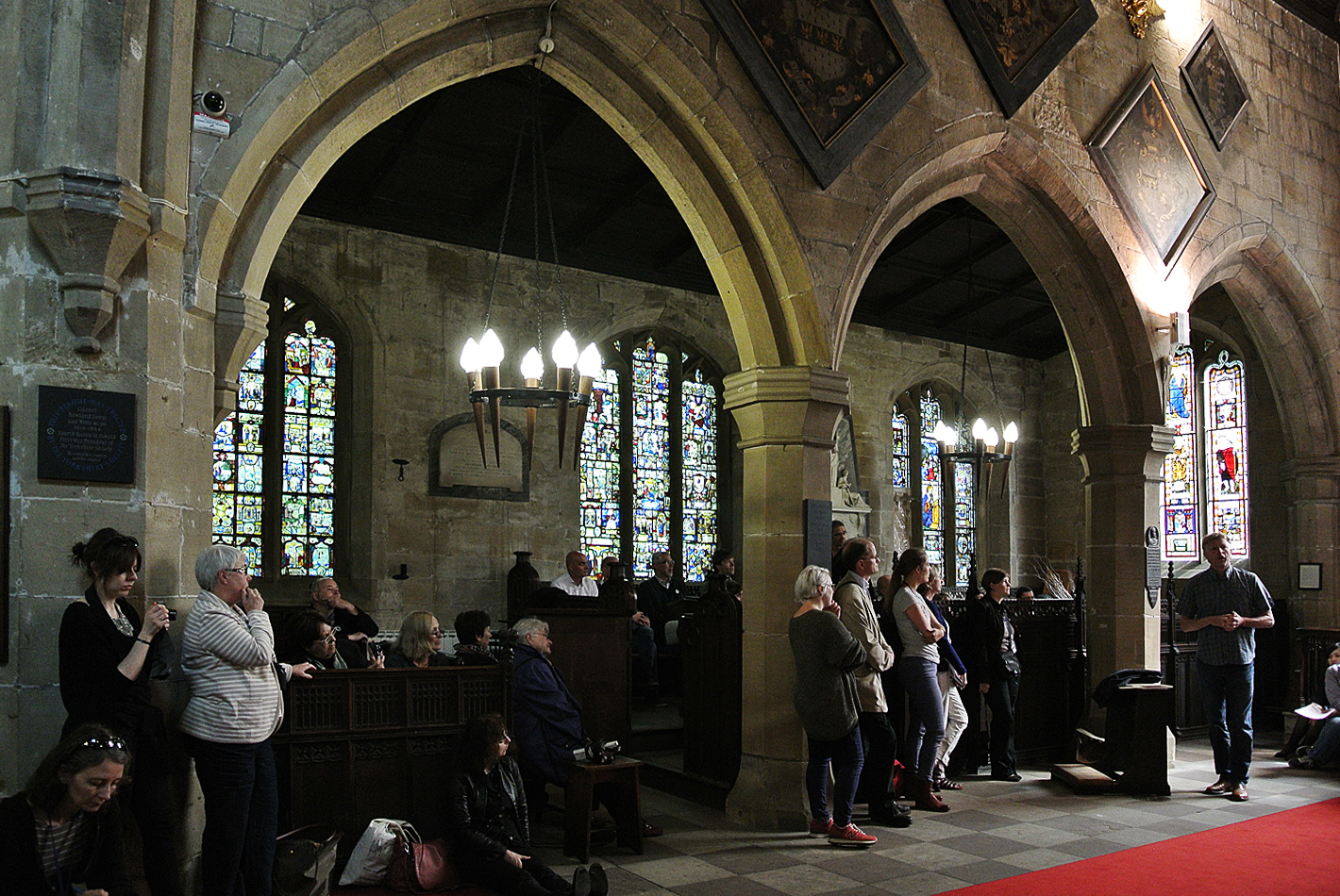 St. Michael's church, Wragby
(West Yorkshire), collection of historic
Swiss stained glass acquired by
English collectors: participants in
the 2014 colloquium of the
International Corpus Vitrearum.
Photo: authorAs I look back over the many directions in the essays that follow, there are a number of common themes. Above all is that of cooperation. First is the cooperation I have experienced. This study would have been impossible without the enormous generosity and good will of colleagues in the fields of art history, preservation, and history, ministers, caretakers of churches, dedicated parishioners, professionals in the making and restoration of stained glass, librarians, archivists, and educators. Cooperation is not only the sine qua non of research; it is the very condition under which these works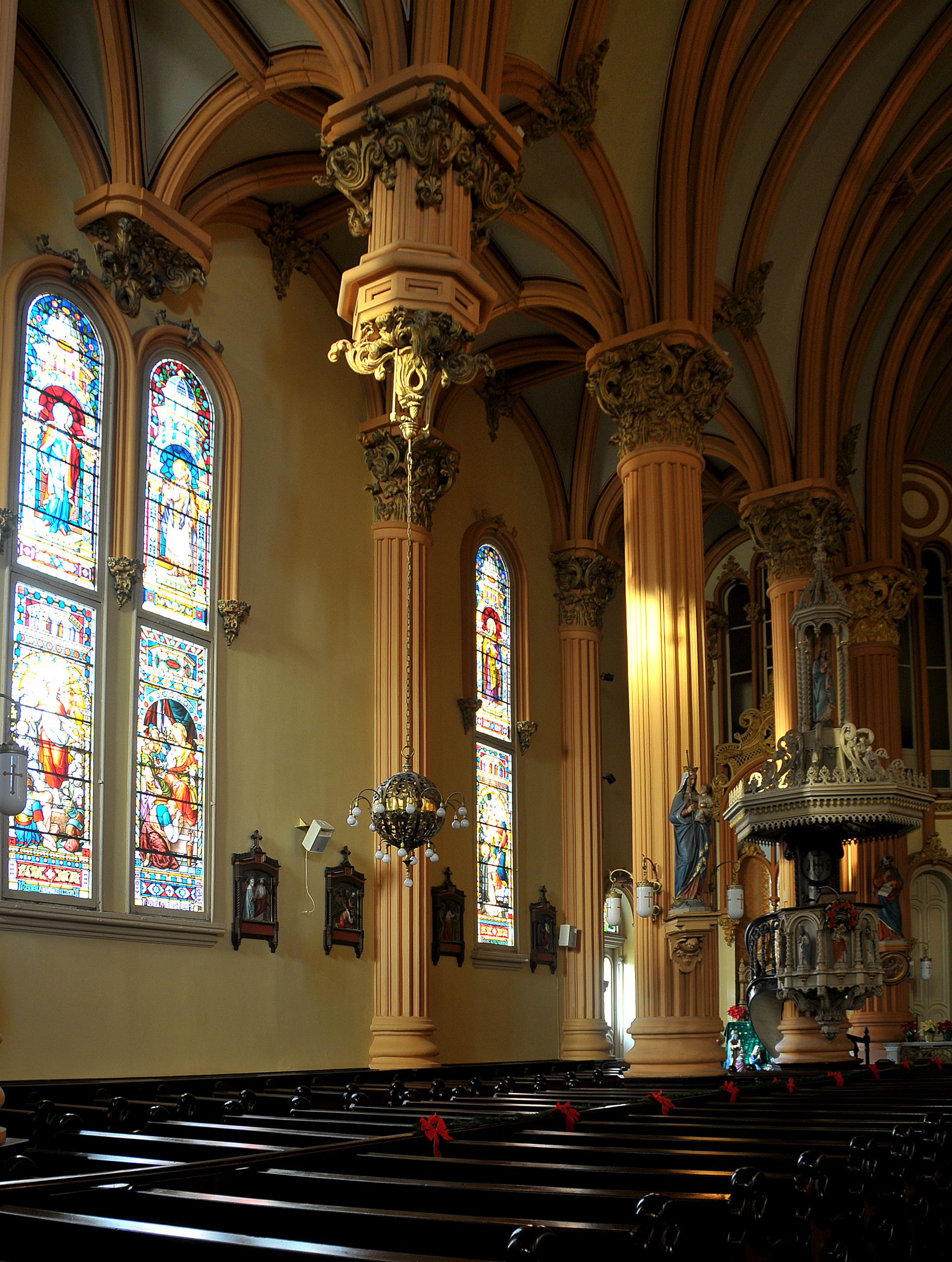 St. Mary's Assumption
Church, 1860, windows by
F. X. Zettler, 1890s (Shrine
of Blessed Francis Xavier
Seelos), New
Orleans.
Photo: Michel M. Raguin of art came to being.
Of the many, many individuals who have been essential to this work, I must express my deepest admiration and gratitude for the leadership of Jane Hayward, late curator of the Cloisters, for pioneering academic study of stained glass of this era. Her efforts introduced me to a systematic study of the 19th century. She was the catalyst behind the Census of Stained Glass Windows in America which for over a decade endeavored to build awareness of the need to achieve an overview of the breadth of the field in order to foster more critical research on the subject matter, patronage, artists, and techniques of this medium. To her, I dedicate this work. The late Willene Clarke served as the first president of Census; I thank for their dedication the Board Members Martin Gallin, and three deeply appreciated individuals who have passed to their rewards, John Nussbaum, Bob Wysocki and Melville Greenland. Jean Farnsworth has continued to research the field with generosity and meticulous detail.
Early publications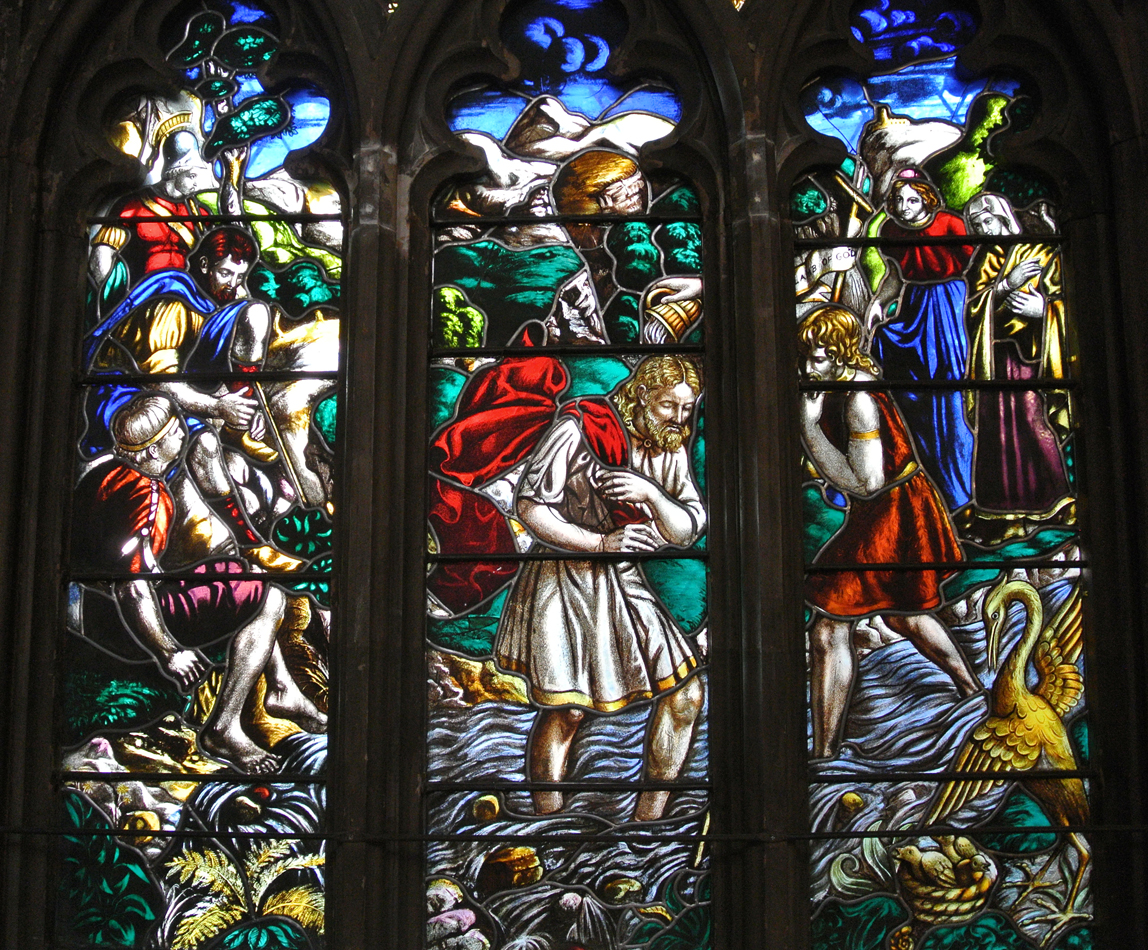 William Jay Bolton, Baptism of
Christ, Church of St. Ann and the
Holy Trinity Brooklyn, 1844-1848.
Photograph: Michel M. RaguinMany publications are mentioned in the text, far too many to be cited here, but in particular, we are all grateful to essential work; chief among these treasures are Charles J. Connick's Adventures in Light and Color, 1937, Phoebe Stanton's The Gothic Revival & American Church Architecture, 1968, Douglass Shand-Tucci's All Saints Church, Ashmont: An Introduction to the Architecture of Ralph Adams Cram, 1974, and his continued work, especially on Cram, and Martin Harrison's pioneering overview Victorian Stained Glass, 1980. More local work includes Willene Clark's comprehensive study of William Jay Bolton in the 1970s, Erne and Florence Frueh's Chicago's Stained Glass of 1983 and Nola Huse Tutag's Discovering Stained Glass in Detroit of 1987, without which this kind of overview could not have been started.
Exhibitions
My early work was supported by a number of exhibitions. Two were mounted by the Gallery of the American Bible Society (later renamed MOBIA), facilitated by Ena Heller, Patricia Pongracz, Bob Wysocki, and Nigel Johnson. First was Glory in Glass: Stained Glass in the United States: Origins, Variety and Preservation in 1999, followed in 2003 by Reflections in Glass: 20th Century Stained Glass in American Art and Architecture. My institution, the College of the Holy Cross, with the cooperation of the American Antiquarian Society mounted Building and Remembering Sites of Worship in the 19th Century in 2002 that included one of William Jay Bolton's windows.
American colleagues
Pioneers in the field include art historians branching out from the portable object to encompass the monumental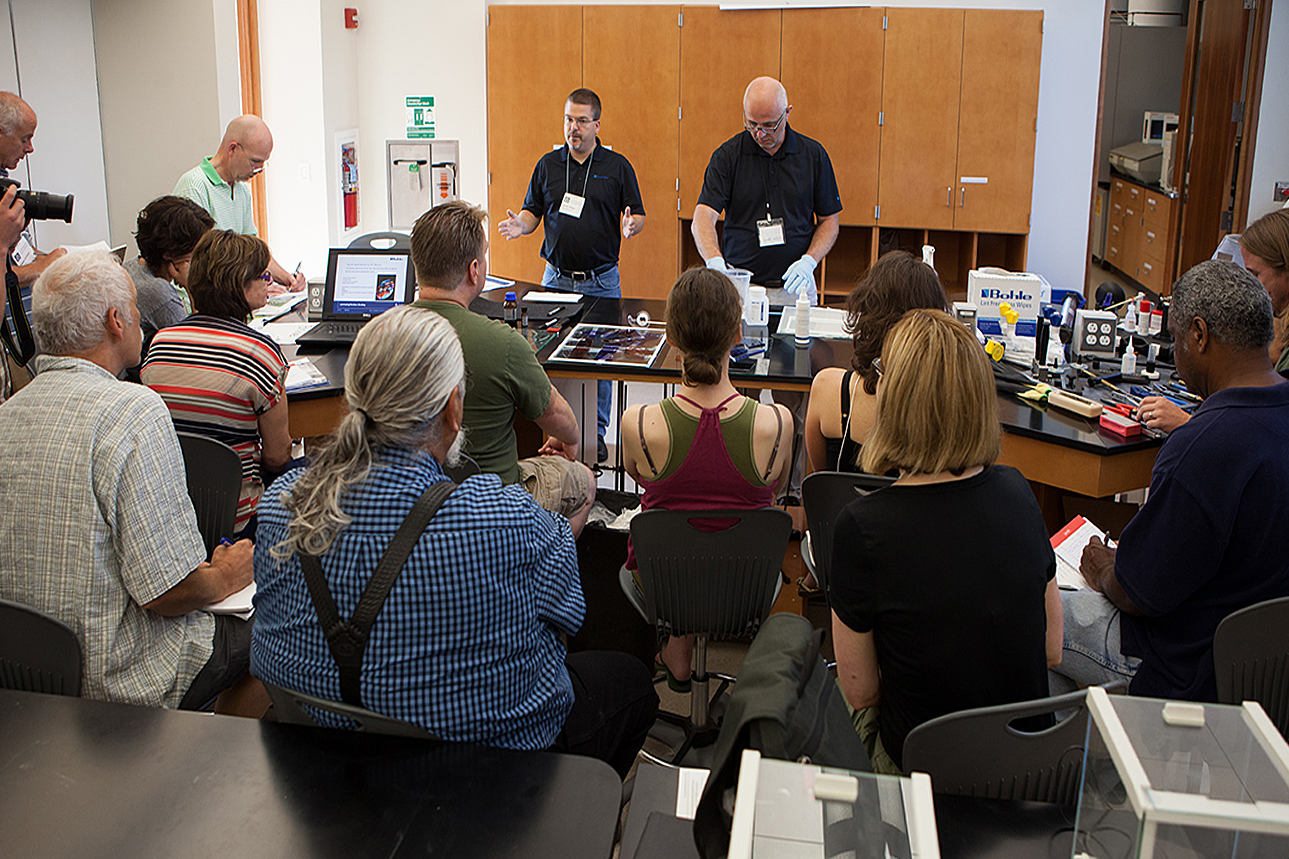 American Glass Guild meeting 2014,
demonstration at Bryn Athyn,
Pennsylvania. Photo: Tom Krepcio decorative arts, especially H. Barbara Weinberg for her vibrant, comprehensive analysis of John La Farge in his time. In this group are the late Hugh McKain for his deep devotion of Tiffany, now continued by the Morse Museum of American Art, Carol Osborne, who detailed the complexity of the Stanford University's Memorial Church, Alice Cooney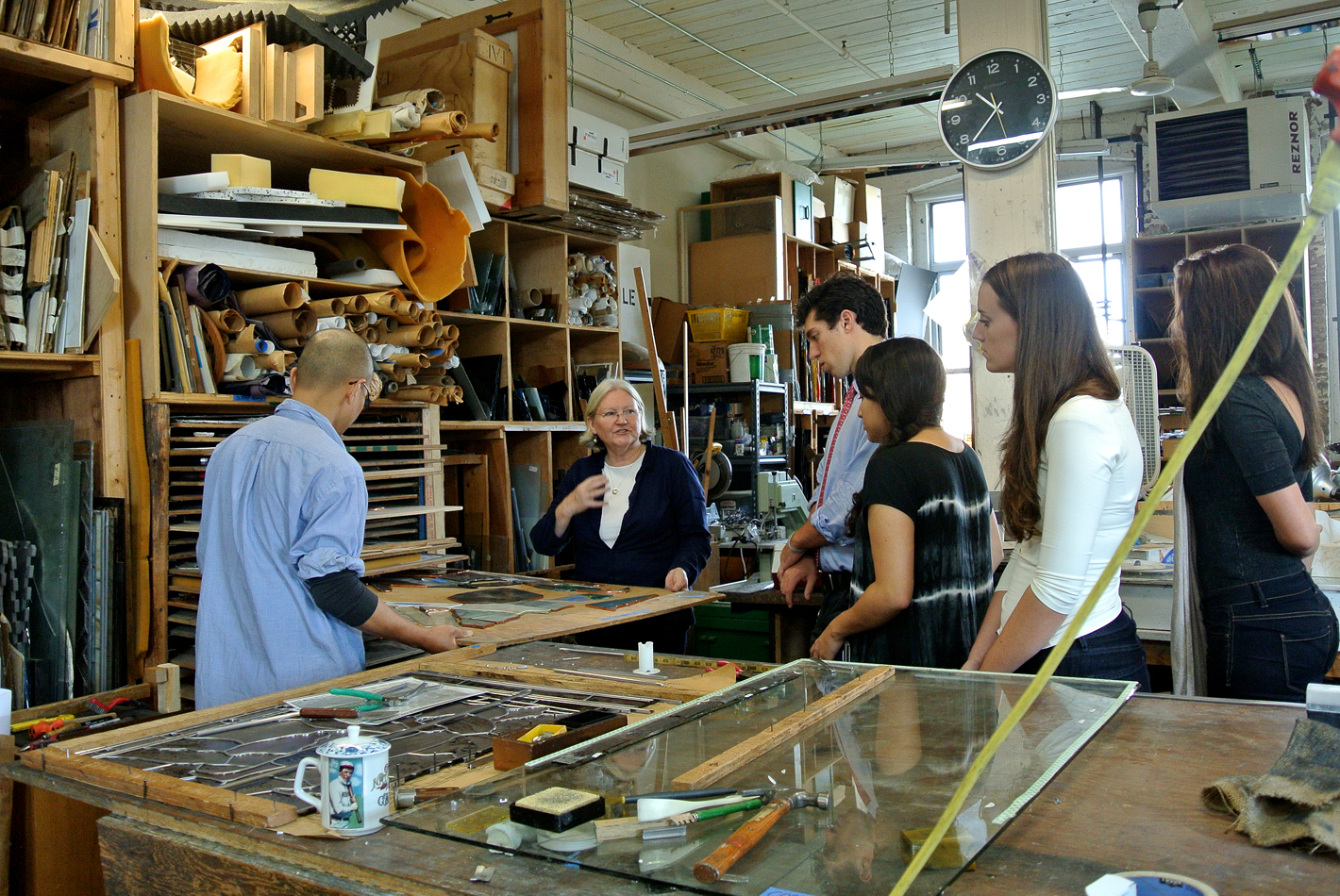 Clerkin-Higgins Stained Glass,
with student visitors, Greenpoint,
Brooklyn, October 2014. Photo: authorFrelinghuysen, bringing attention to stained glass of the Aesthetic style and of Tiffany at the Metropolitan Museum of Art, and Gabriel Weisberg, whose activism and generosity in fostering a broader artistic perspective of late 19th and early 20th century is legendary. I am also indebted to Rolf Achilles' deep knowledge of the leaded and painted window as well as the architecture of Chicago.
Likewise, much is owned to practitioners in the field such as the members of the American Glass Guild, especially Mary Clerkin Higgins. The annual meetings, site visits, and website of the AGG greatly expand our understanding. The Stained Glass Association of America has a proud tradition of "publishing continuously since 1906" its Stained Glass Quarterly. Mentioned should be given to Roberto Rosa of Serpentino Studios, the late Helen Weis, librarian at Willet Studios. Donald Samick of the Lamb Studio, and Arthur Feminella. Particular indebtedness is owed to the Connick Foundation, especially to the late Orin E. Skinner and Marilyn Justice who have labored to keep a great legacy vibrant. One of my most memorable moments as a researcher was viewing the Connick library before its dispersal. It was my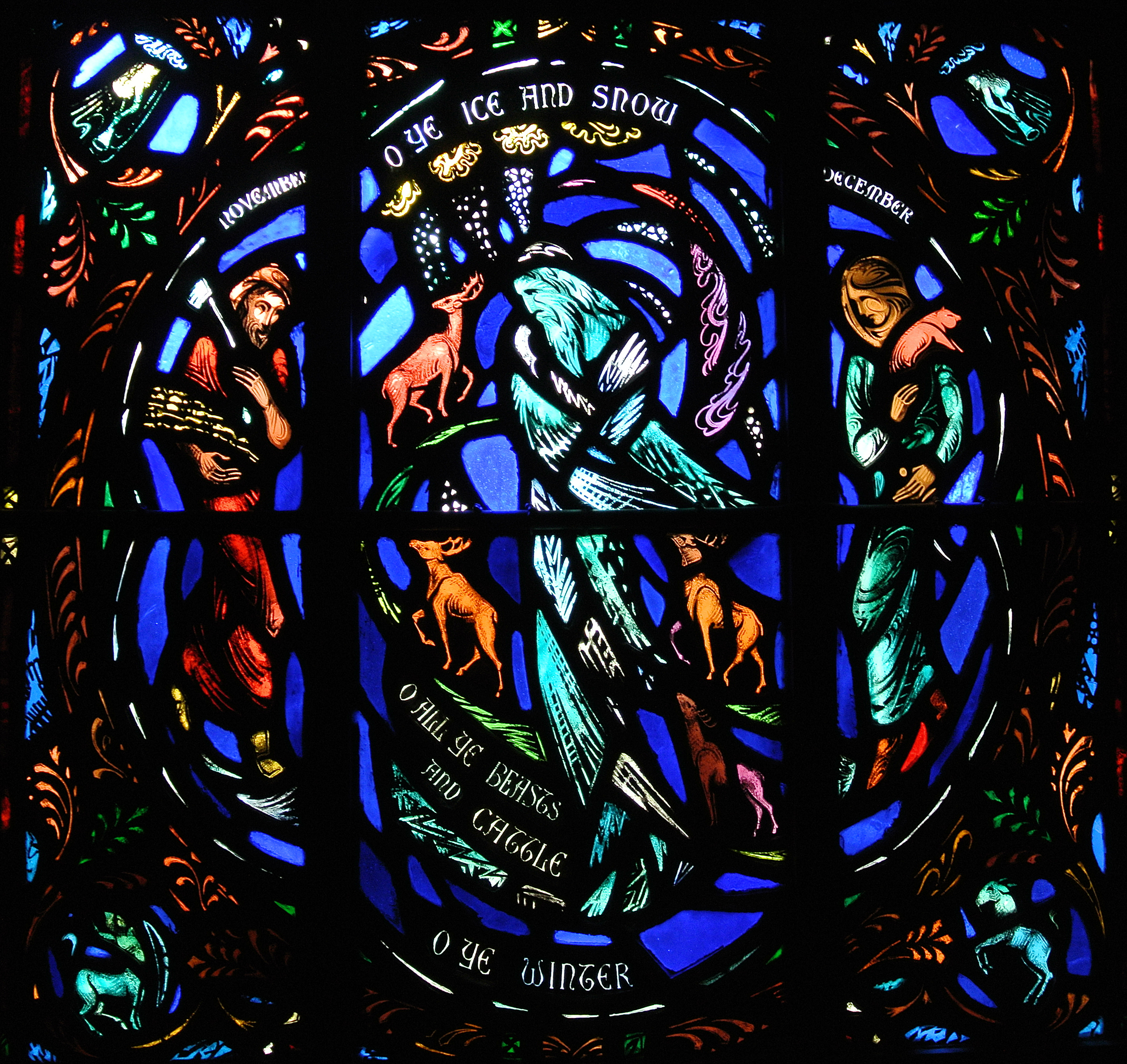 Charles J. Connick, Canticle of the
Three Hebrews in the Fiery Furnace
(Book of Daniel), detail of Winter,
1938, south aisle, Heinz Memorial
Chapel, University of Pittsburg.
Photo: author first deep insight into the wealth of cultural information amassed by a studio whose life spanned three-quarters of a century.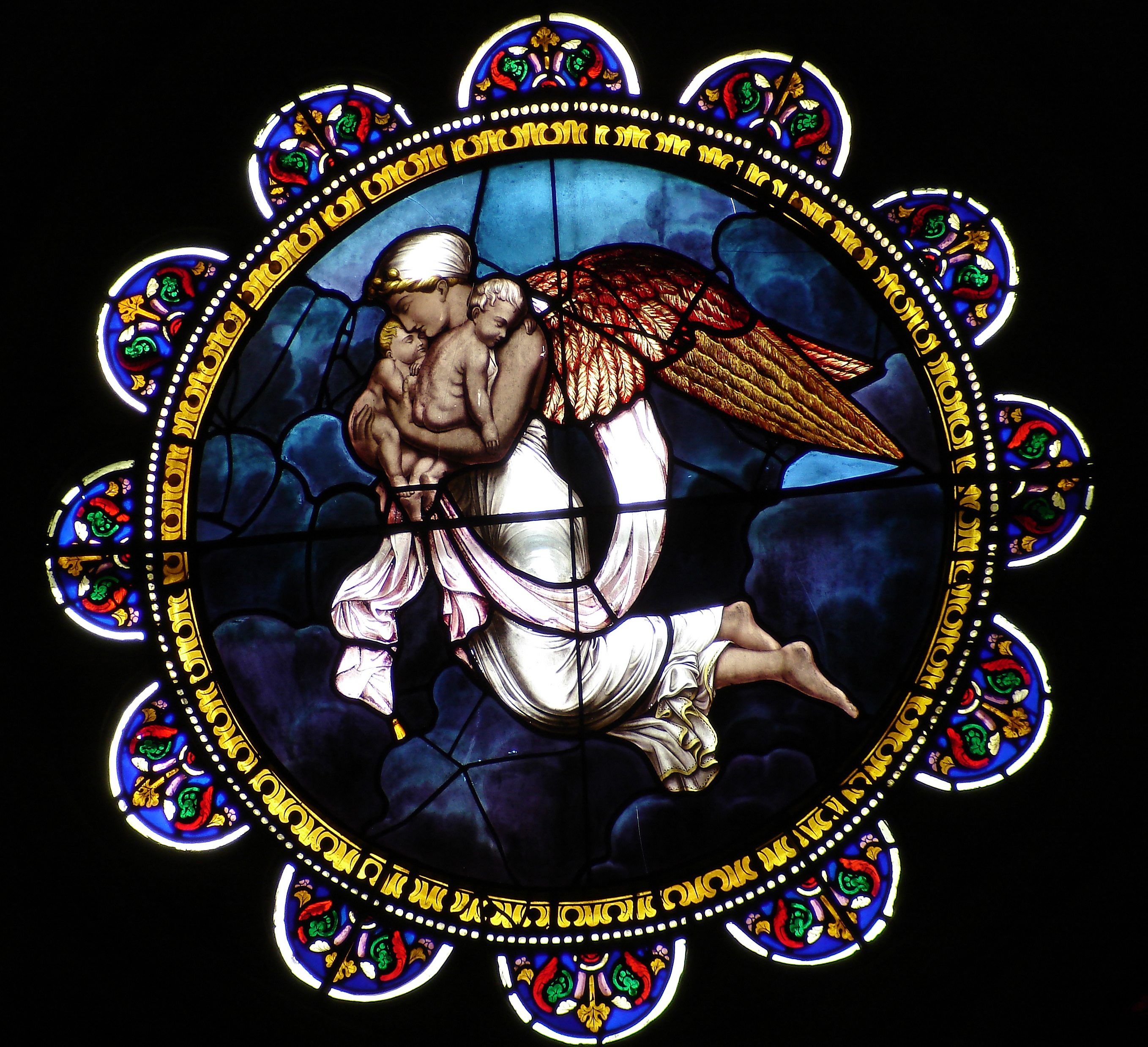 James Ballantine of Ballantine &
Allen, Edinburgh, Angel carrying Souls
of the Departed, 1845, Bigelow
Chapel, Mount Auburn Cemetery,
Waltham, Massachusetts.
Photo: authorI also thank architectural historians such as James O'Gorman and the Society of Architectural Historians for their support, Erica Hirschler, Museum of Fine Arts Boston for her pioneering work on women artists, especially Sarah Wyman Whitman, Richard Guy Wilson University of Virginia for his many perspectives on architecture and the decorative art of the era, James Yarnall, for his deep devotion to the work of John La Farge, and Susan Levy, for facilitating study of New Orleans. Peter Riley, Harvard University was the amazing facilitator for the restoration of the windows of Harvard's Memorial Hall; remembered also is the late Mason Hammond, professor of classics emeritus and former "Monuments Man" of World War II whose meticulous research on the windows is still invaluable. Albert M. Tannler has accomplished much work on early 20th century stained glass especially that of the Connick circle. Lance Kasparian, AIA, was one of the first to study early artists in Boston and surrounding areas; Sue Lumb and Fred Maddocks made great inroads documenting stained glass in Poughkeepsie, New York. I cherish fond memories of Gerald Farrell Jr. and Jennifer Lee Cadero-Gillette, who first worked with me in 1980, aiding greatly to our understanding of the New York stained glass maker Henry Sharp. Recent work by Jeffery Howe on contextualizing John La Farge in a wide swath of 19th-century culture shows us the way of the future. 
European expertise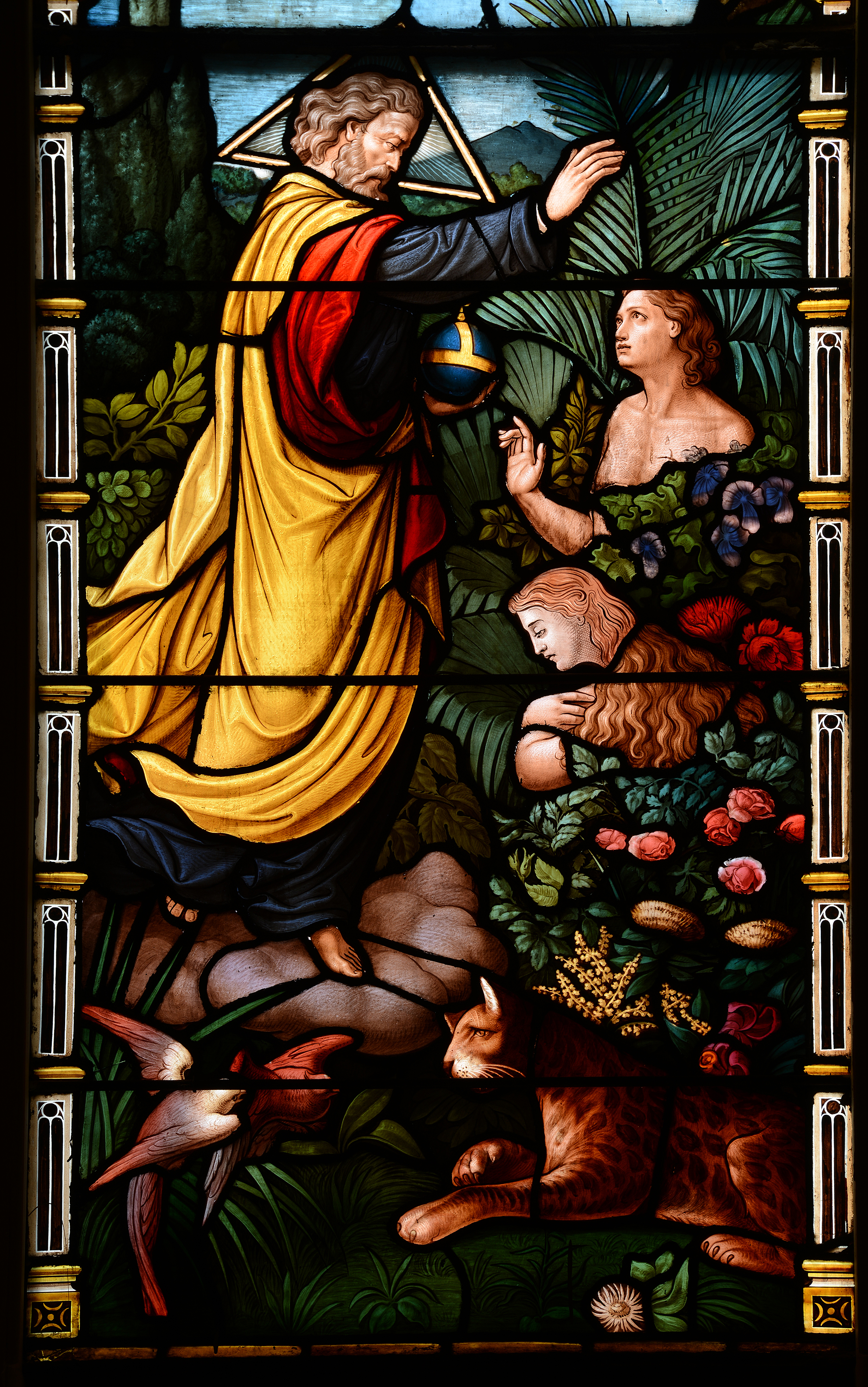 Tyrolese Art Glass
Company, Innsbruck, God
blesses Adam and Eve,
1894, St. Joseph's
Cathedral, Manchester,
New Hampshire.
Photo: Michel M. Raguin European imports as well as work produced within the United States by immigrant artists continuing the tradition of "the old country" permeate American buildings. The complexity of the field is daunting, and international support has been essential to broach any understanding of the wealth of this material. My deep gratitude is due to many members of the International Corpus Vitrearum; my mentors Jean Lafond and Louis Grodecki remain cherished memories. Our bi-annual colloquia allowed exploration of not only medieval and Renaissance work, but also intersection with many colleagues also dedicated to the study of glass of the 19th and 20th centuries. Chief among them are Yvette vanden Bemden, Isabelle Lecocq, and Guido Jan Bral of Belgium, Chantal Bouchon and the late Catherine Brisac, Jean-François Luneau, and Michel Hérold of France, Daniel Parello and Ivo Rauch of Germany, Elizabeth Oberhaidacher of Austria, Juan Vila-Grau of Catalonia, Spain, Caterina Pirina of Italy, and in Switzerland Stefan Trümpler, Uta Bergmann and Rolf Hasler have been advocates. In England I owe much to Sarah Brown, Keith Barley, and Penny Hegbin-Barnes in particular. My American colleagues have also been invaluable supports particularly Madeline Caviness, Corine Schleif, Helen Zakin, with whom I explored Chicago, and Linda Papanicolau, who showed an early interest in J. Gordon Guthrie.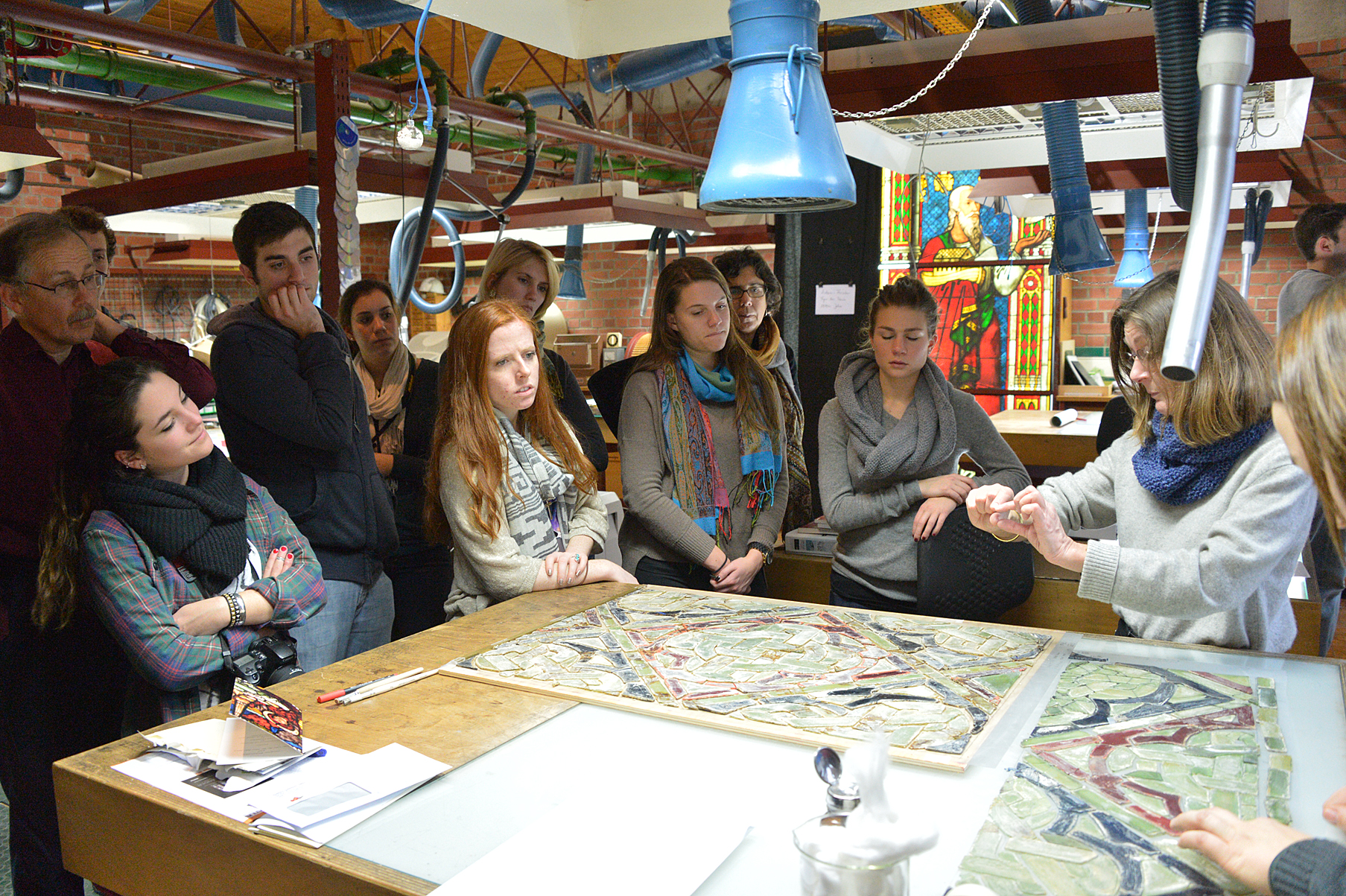 Dombauhütte Cologne,
restoration of stained glass, Ulrike
Brinkmann instructing visitors,
December 2012. Photo: authorUlrika Brinkman of the Cologne Cathedral Building Workshop has been unfailingly generous with welcome and with expertise. 
Elgin van Treeck Vaassen and Peter van Treeck have been invaluble sources of information, who offered not only their expertise, but their hospitality. I am grateful for an inventory of the Van Treeck Studio. Elgin must be thanked as one of the premier scholars of stained glass of the 19th century in Germany, well aware of its roots and dissemination abroad. Gabriel Mayer provided inventory lists of F. X. Zettler,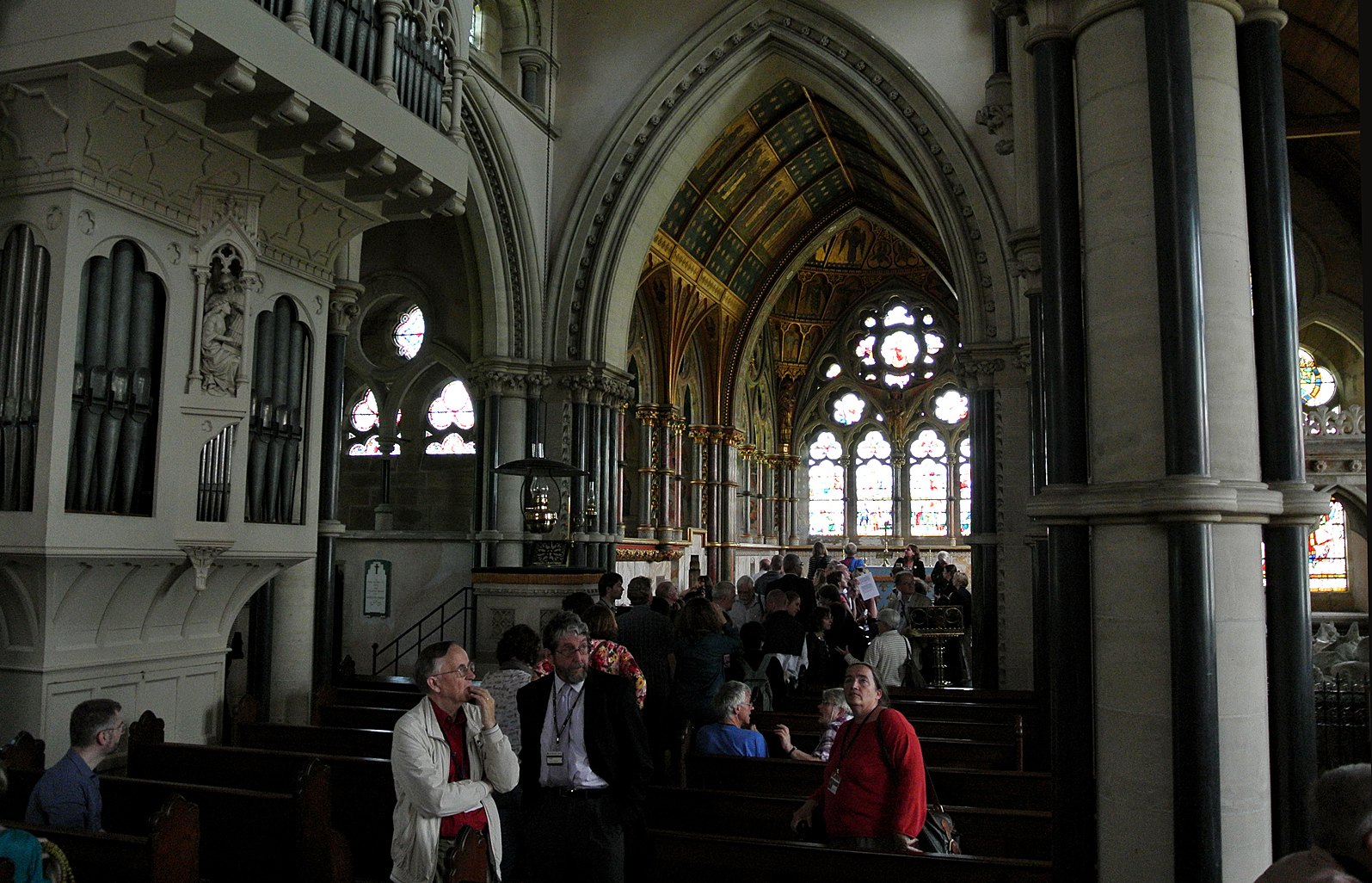 Church of St. Mary, Studley Royal,
(North Yorkshire), architect William
Burges, 1871-1870, meeting of
participants in the 2014 colloquium
of the International Corpus Vitrearum.
Photo: authorMunich until 1954 as well as the Mayer Inventory List. I visited the Tyrolese Art Glass Manufacture, Innsbruck, and was allowed access to their detailed commission records. The late Sybil Kummer-Rothenhäusler and Barbara Geisicke, gave me extraordinarily welcome perspectives. Their knowledge of a long tradition, including the historic that inspired the new, was invaluable. In the United Kingdom, Peter Cormack and Nicola Gordon Bowe have provided in person and in publication superbly researched and eloquently presented work on the Arts and Crafts movements. We are all grateful for their dedication to rescuing a great tradition that is it all too easily marginalized in the world of collectable objects. Illuminating also was the advice of Michael Donnelly formerly of the People's Palace Museum, Glasgow, and Linda Cannon, restorer at Burrell Collection, Glasgow. Dominating this array of English support is the succession of invaluable articles of the Journal of Stained Glass, published by the British Society of Master Glass Painters. Bravo, colleagues! 
Institutional support and beyond
I must cite with special thanks, the Boston Public Library where as an undergraduate I luxuriated in the access to works over summer weekends when Harvard's libraries were closed. I, like many others have been the recipients of the expertise and generosity of the greatly missed Janice Chadbourne, Curator of Fine Arts at the BPL. I have also benefited from the libraries of Harvard University, the Victoria & Albert Museum, the Metropolitan Museum of Art, the Frick Museum, the Morse Museum of American Art and the New York Public Library; I cite in particular Gregory M. Wittkopp,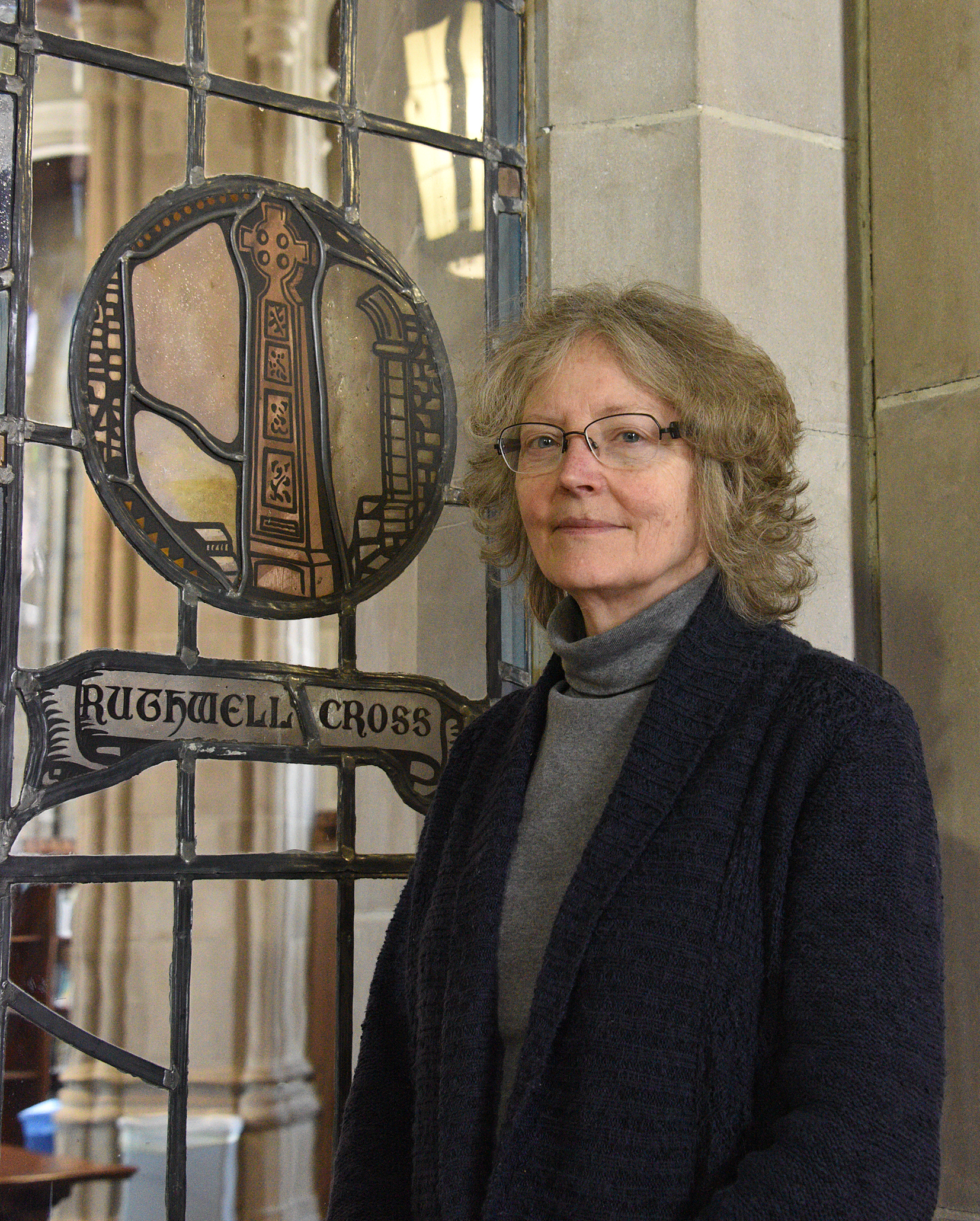 Author with Genesis of the Book
window, Earl Sanborn, 1928, Bapst
Library Boston College.
Photo: Michel M. Raguin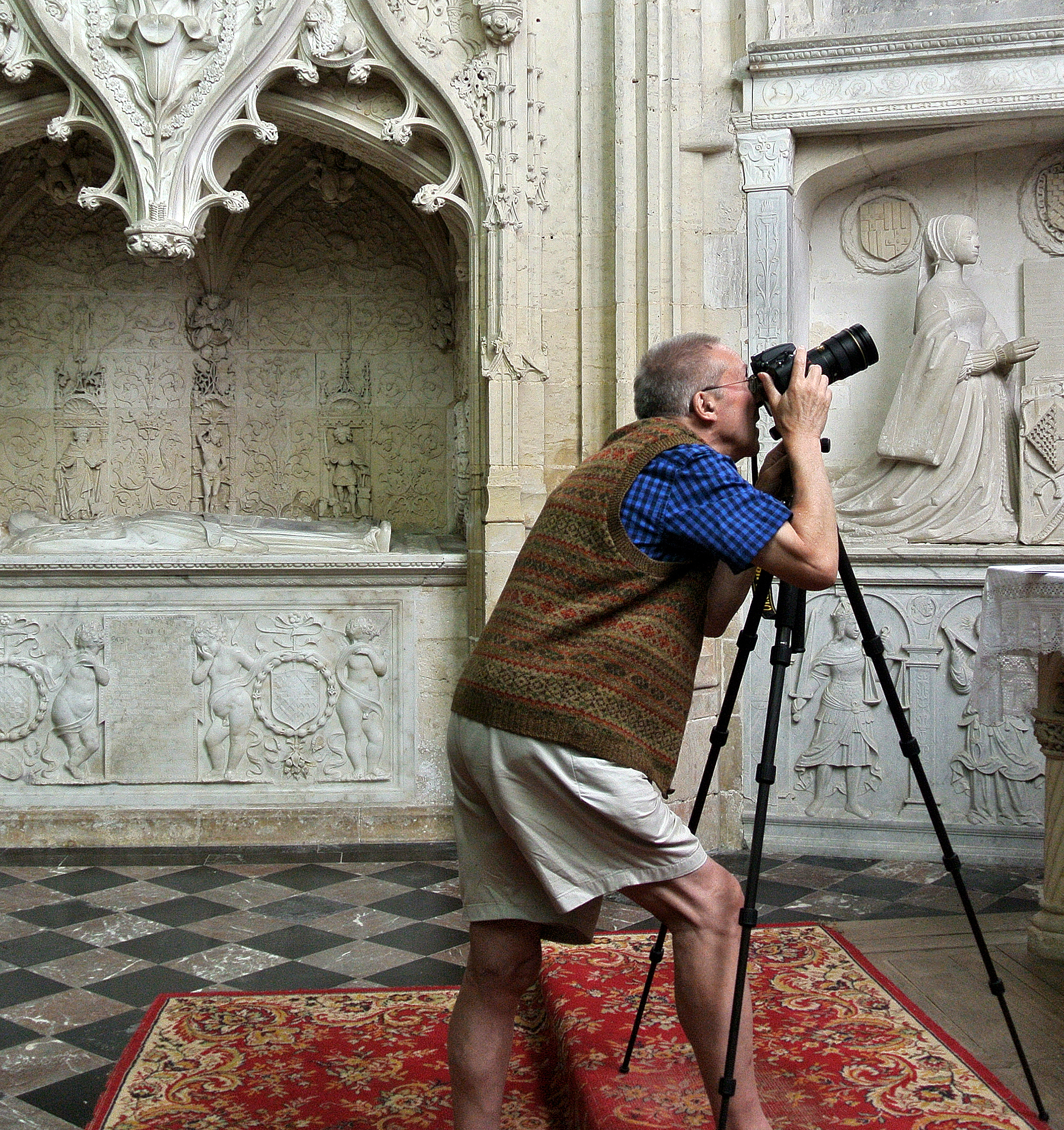 Michel Raguin photographing
windows, parish church, Folleville
(Somme), France, July 2015.
Photo: author Curator of Collections and Mark Coir, Director of the Cranbrook Archives. Institutional support has been essential, first the generosity of the Rakow Grant for Glass Research as well as the Rakow Library of the Corning Museum of Glass. Support has also been given by the College of the Holy Cross, in library acquisitions and also a faculty publication award, supervised by Mary Morrisard-Larkin, Director of Educational Technology and implemented by Michael Araujo. The mounting of this website is possible due to them.
Family and friends must be thanked for material as well as emotional support. While visiting many sites, especially San Francisco, with Ian Berke, Santa Fe, with my sister Jeanne Boyles, and Los Angeles with my brothers Vincent Chieffo and Michael Chieffo, I have benefited from "in-kind" donation of lodging, food, and energetic exchanges. Resonating through this entire publication, we find my husband's photography. Michel's work demonstrates the synergistic confluence of a software engineer and the digital camera- and we are the happy beneficiaries. He offers his work for the enlightenment of the field. Any requests for information on photographing stained glass or for larger scale images should be made to me.