Return to the Hiatt Holocaust Collection Home Page



Father John B. Janssens, S. J.
(1889-1964)
Father Janssens, the provincial superior of the Flemish Jesuits in Belgium, lived in the Jesuit residence, on Haachtsesteenweg 8,
in Brussels. With Father Gessler, during the last five months
of World War II, he approved the plan to conceal in the
rear buildings of the residence some thirty-five Jewish
children who could not play on the streets outside. Remaining
inside the residence, where they were housed and fed,
the chillren received instructions from the ladies of the
Eucharistic Crusade and no one knew that they were Jews.


---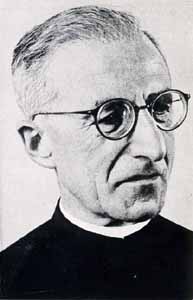 Images were taken from the personal collection of the Rev. Vincent A. Lapomarda, S.J.

---
---
Write to: Fr. Vincent A. Lapomarda (vlapomar@holycross.edu) with comments or questions.
Last updated April 8, 1999 Copyright © 1997-98, College of the Holy Cross