22. King's Lynn, St. Margaret's, Coats of arms on back of choir seats 1370-7. After William Taylor, The Antiquities of King's Lynn (London, 1844).
---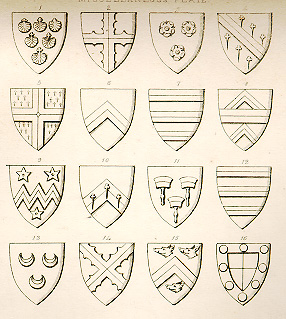 1. Six escallop shells (Scales).
2. Sable a cross engrailed or (Robert Dufford, earl of Suffolk; his daughter Catherine was the wife of Robert, Lord Scales).
3. Three cinquefoils; if or three cinquefoils azure (Bardolf); if azure three cinquefoils argent (Fitton).
4. Gules a bend between six crosses crosslet fitchy (here shown as botonny fitchy) argent (Howard).
5. Ermine a cross sable (Sir Robert de Bois; his daughter Alice was the wife of John Howard).
6. A chevron (Unidentified but appearing with the arms of Howard in that family's funerary chapel, East Winch, now destroyed).
7. Barry of six pieces (unidentified) [as in no. 12].
8. Azure a fess between two chevronels argent (Tempering).
9. Sable a fesse dancetty between three mullets pierced argent (Weasenham).
10. On a chevron three crosses botonny fitchy (Unidentified).
11. Sable, three mallets argent (Rainham).
12. Barry of six pieces (unidentified) [as in no. 7].
13. Azure, three crescents argent (Thorpe).
14. Gules a saltire engrailed argent (Kerdeston).
15. Argent a chevron between three boar's heads couped sable (Mosel)
16. Quarterly or and gules, in a border sable bezanty (Rochfords).