Helen Bigelow Merriman and Central Congregational Church

In 1874 Helen Bigelow married the congregational minister Daniel Merriman, then pastor of the Broadway Congregational Church in Norwich, Connecticut. Three years later the couple moved from Norwich to Worcester where Rev. Merriman became minister of the Calvinist Church on Worcester's busy Main Street, a location that was considered less than ideal. Merriman took the post with the understanding
that a new church would be built on a more desirable site.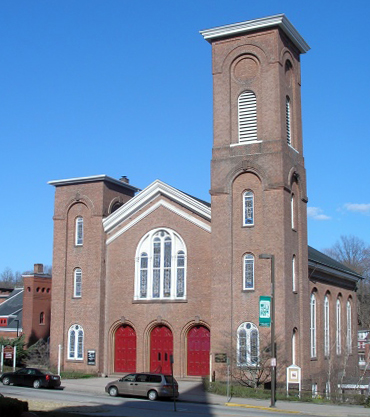 From all accounts, the Merrimans were mover and shakers, for in 1883, when it appeared that plans for the new church were not proceeding, Rev. Merriman submitted his resignation, which he subsequently withdrew once he saw that a new facility would become reality. The land for the new church, just north of Lincoln Square, was acquired on favorable terms from Stephen Salisbury III. Rev. Merriman's background in engineering and interest in architecture and Mrs. Merriman's involvement in the visual arts were a winning combination for realizing a magnificent facility for the Congregational Church. Designed by Stephen Earle, Worcester's leading architect at the time, the new church was completed in 1885 and renamed by Reverend Merriman the Central Congregational Church.
Three years later the Merrimans moved into the new parsonage adjacent the church on Jo Bill Road, which they renamed Institute Road. As pictured below, at the end of this essay, the building was a generous, three story townhouse.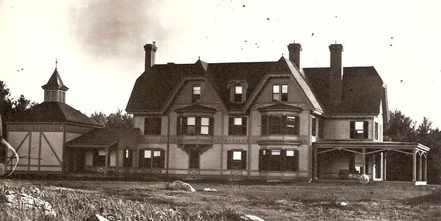 By the time of the church's construction, Mrs. Merriman had become extremely wealthy. As the only surviving child of Erastus Brigham Bigelow, she gained a considerable inheritance following his death in 1879. Erastus was a self-made man whose inventions led him and his brother Horatio Nelson Bigelow to found the prestigious Bigelow Carpet Company. Erastus's family lived in Boston and also cherished a summer home in North Conway, NH, which they named Stonehurst. Designed by the Boston firm of Snell and Gregson in the Stick Style, the building was complete in 1872, only to be destroyed by fire in 1875. The Bigelows promptly rebuilt using the same plans and were able to occupy the building in 1877. Daniel and Helen inherited the property (now a guest inn and restaurant) in 1879. Later, in 1895, Helen engaged in a ten-month long enlargement and redecoration of the home, resulting in what she termed the English Manor style. The transformation produced a house with flowing spaces and an exterior similar to shingle-style buildingsof the era. Helen Merriman was also active in public causes, founding the Memorial Hospital in memory of her parents and serving as president of the North Conway Public Library, among other preservation and cultural activities.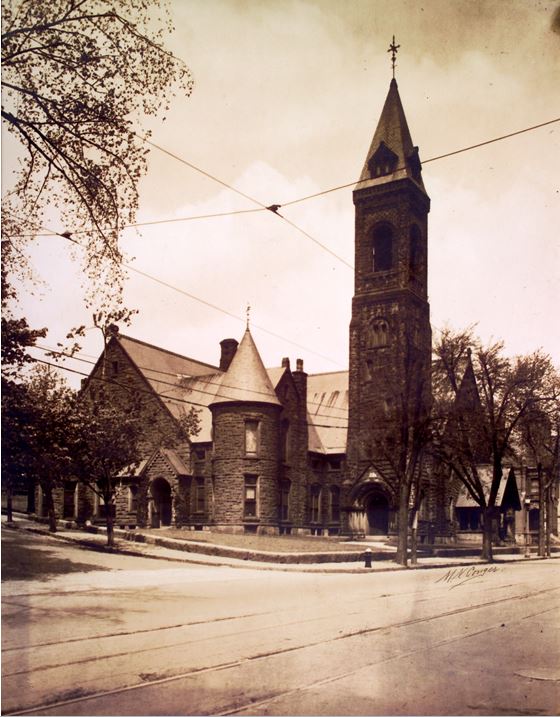 Helen Merriman's work for Central Congregational, thus, was part of her life-long interest in philanthropy and the arts. Drawing upon her good taste, she personally supervised and, from all accounts, funded the interior decoration of the new church. Her first choice for the project was John La Farge, who, however, was occupied with other commissions at the time. Mrs. Merriman then turned to her former classmate Sarah Wyman Whitman, one of the few women artists to compete with men for public commissions. Central Congregational Church was Whitman's first commission for decorative work, an area in which she eventually distinguished herself. Her stained-glass windows and decorative inscriptions were the perfect complement to Stephen Earle's Romanesque Revival building, now considered his finest creation. For Helen Merriman the interior decorative work was the contribution of the women to insure that the church "shall speak friendliness and welcome at every turn."
Like Sarah Wyman Whitman, her friend and fellow artist, Helen Merriman also taught Sunday school classes at Central Congregation Church. Both her classes and her writings covered many topics besides religion. In her address entitled Both Sides, which she delivered in 1895 in honor of the seventy-fifth anniversary of the organization of Central Church, she explored the changing role of women. Helen Merriman's focus was the contemporary woman's new and "larger world," which, she wrote "if she chooses it with sufficient energy, she may play a part." Helen Bigelow Merriman and Sarah Wyman Whitman are both classic examples of the modern woman whose determination and extensive knowledge of art enabled them to accomplish so much.