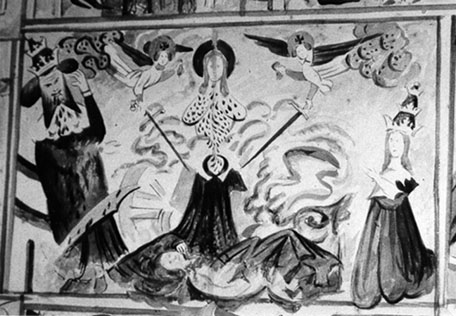 The Breaking of the Wheel, a subject occupying the space of two.
To the left, Maximinus, enthroned, struck by a fragment of the Wheel, the blood streaming from his face; in the centre the Saint, with fragments of the Wheel or Wheels, and parts of stricken figures, some lying supine where they have been struck down; to the extreme right, the kneeling Empress, crowned, like the Emporer, with a triple crown; and in the sky above, to left and right of St. Catherine, a half-figure of an Angel with drawn sword.

Text from E.W. Tristram, English Wall Painting in the 14th Century. London: Routledge, 1955, 249-250.