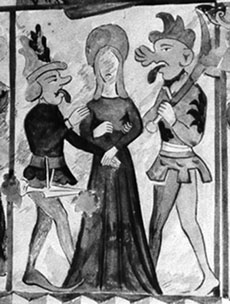 The Saint Between Executioners or Gaolers.
She stands in the centre, facing frontally, clad, as in the previous scene, in a long robe; on each side is an executioner or gaoler, his head a hideous caricature as in 16, in cote-hardie, long stockings, their colors counterchanged, and bizarre head-dress, the one on the right holding a large implement.

Text from E.W. Tristram, English Wall Painting in the 14th Century. London: Routledge, 1955, 249-250.