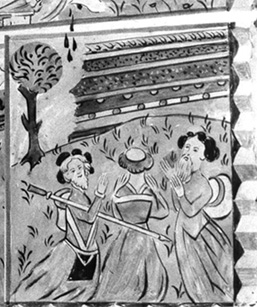 Pilgrims at the Tomb of St. Catherine.
In the upper part of the scene, the sarcophagus, and on the left a single tree; in the foreground, against a bank of grass and flowers, three pilgrims kneeling in prayer, one tonsured and another, on the extreme left, with scrip and bourdon.

Text from E.W. Tristram, English Wall Painting in the 14th Century. London: Routledge, 1955, 249-250.