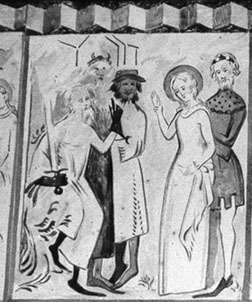 The Saint Disputing with the Emporer.
Maximinus is seated cross-legged on the left, a drawn sword in his right hand, his left being raised as though in emphasis; the Saint, facing him, raises her right hand; behind her stands an attendant, clad in shoulder-cape, a red knee-length cote-hardie with the lower edge dagged, and shoes with long points.

Text from E.W. Tristram, English Wall Painting in the 14th Century. London: Routledge, 1955, 249-250.