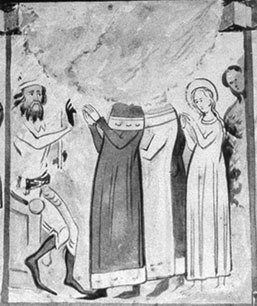 The Dispute with the Philosophers
The Emperor is seated on the left, with three Philosophers, clad in long robes, in one case enriched with bands of ermine, immediately before him; behind them is the Saint, with both hands raised as if emphasizing the points of her argument, and to the extreme right another of the disputants.

Text from E.W. Tristram, English Wall Painting in the 14th Century. London: Routledge, 1955, 249-250.