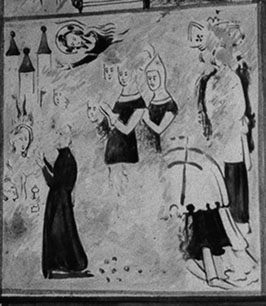 The Conversion of Porphyry and Two Hundred Knights.
To the left, the towers of the prison, and, apparently, the head of the Saint; towards the centre, immediately below a half-figure of Christ which appears in the sky, the kneeling Porphyry, with a group of knights behind him, together with some other figures, one of them apparently wearing a mitre or tiara.

Text from E.W. Tristram, English Wall Painting in the 14th Century. London: Routledge, 1955, 249-250.