Two Congregational churches: Central (Romanesque) and Union (Gothic) buildings and their congregations demonstrate economic and political relationships that characterized Worcester's society in the 1880s and 90s. These important congregations that continued "Yankee" traditions demonstrate how architectural styles - and site - reflected social status.
Central Church and Original Greek Revival Style
Central Church, organized in 1820, descended from the Calvinist Church and Society the City's fourth religious society. The original church was designed by Lewis Bigelow and Jonathan Wentworth in a Greek Revival style. In 1830 and then in 1832, Elias Carter, the city's most prominent architect of the era, led remodeling efforts.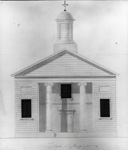 An exterior view, one of the twenty-two drawings of Central/Calvinist owned by the American Antiquarian Society, Worcester, shows the façade that faced Main Street. Its perfect symmetry emphasizes two ionic columns. These details linked to colonial windows and wooden frame show the new combination of colonial American and ancient Greek architectural techniques. Such a configuration reflects comments by French visitor Alexis de Toqueville who toured the United States in the 1830s: "I was surprised to notice . . . a number of little white marble palaces, some of them in classical architectural styles. . .when I looked more closely at one. .. I found that it was built of whitewashed brick and that the columns were of painted wood (De Toqueville, 468).
Central and Romanesque Revival
In 1879 the Greek Revival was out of date and the congregation selected Stephen Earle to create a new building - the original church was destroyed and the site was used for commercial buildings. In 1885 the new church, named Central church, reflected the then popular "picturesque Romanesque Revival" mode. The building is deliberately a-symmetrical, with a tall, single tower, entrance porch of stone and timber, pointed gables, high-hipped roof, and varied shapes and levels of windows. Rough-textured walls of reddish gray sandstone characterize the exterior while on the interior two intersecting sheathed barrel vaults frame an eloquent preaching space. Similar to Brattle Square Church, Boston, 1871 by HH Richardson with the tall single tower and rose window of the façade.
The building reflects a trend in Congregational building announced in 1853 by the Book of Plans for Churches and Parsonages published by the Central Committee of the Congregational Church. The book was a response to the opening of new territories in the central and western areas of the United States, where "churches already rear their spires in the new cities" (Central Committee, 10). Under discussion of style, the Committee stated explicitly that Gothic was not essential "in contrast to some who wish to claim it" but admitted that "pointed arches and clustered pillars now attract the enthusiasm of church builders" (Central Committee, 13). The Book of Plans proved an extremely influential vehicle for the promotion of the Romanesque as used by Earle. This style - sometimes called the Round-arched style -reflected 12th and 13th-century designs from throughout Europe, but particularly from Northern Italy, such as Parma Cathedral or Saint'Abbondio in Como and Germany such as Speyer Cathedral in Germany (Conant, 384-429). It was characterized by an emphasis on the solid plane of the wall; rounded arches; restrained ornamentation, which included corbelled friezes; and asymmetrical towers, generally with one tall spire. It appealed particularly to non-ritualistic denominations, such as Congregationalists, Presbyterians, Baptists, and Methodists, because it was a romantic and picturesque style that did not carry the "popish" connotations associated with Gothic.
Chestnut Street (Union) Church
The Gothic Revival style became so dominant by the end of the 19th century that the façade of a prominent Congregational church could be patterned after Notre-Dame of Paris. Philip Moen, one of the major supporters, claimed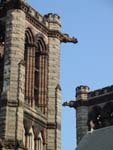 French Huguenot (Protestant) ancestry - similar to Martin Brimmer, founder director of the Museum of Fine Arts and patron of Trinity Church, Boston. Chestnut Street church's distinctive façade, completed 1897, was visible in many published views of the city. The building's design was the work of Stephen Earle, also architect of Central Church, here working with partner Clellan Fisher. Divided into three levels, as in the French 13th-century model, the exterior shows similar twin towers, central rose window, and horizontal moldings emphasized by contrasting stones.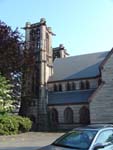 The base contained three pointed arches in front of the central doors. The interior, however, did not echo Gothic models with solid stone columns and sequential division of space. Chestnut Street's interior wooden roof of curving segments achieves a sense of unity. The sanctuary could seat 900 persons. A subsidiary chapel was given in 1896 by the widow of Philip Moen in memory of her husband. Designed to seat 350, the chapel was adorned with gilded and stenciled peacock colored walls and provided with steam heating. Over the altar was an opalescent stained glass window of the Angel of Praise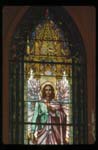 designed by the New York artist Henry Landon Parkhurst (died 1921). This window has been transferred to Pakachoag Church, Auburn, MA. In the sanctuary the stained glass was opalescent non-figural in tones of mauve, green, blue, and amber. The roses above the transepts and entrance showed simply geometric patterns playing on the motif of the Gothic arch that harmonized with the interior color scheme of olive walls and gold diaper work. The sort light reveals the intricate carving of the wooden hammer-beam roof and pews.
Philip L. Moen, Parishioner
This was the era of extraordinary prosperity for the city of Worcester and one of the principle patrons of the building was Philip L. Moen, director of Washburn and Moen Wire Manufacturing Company and one of Worcester's most prominent citizens. Moen's political views mixed progressive and conservative ideals: he was pro abolition of slavery but staunchly against unionization of labor. He represented the Second Ward (east of Lincoln Square) on the City's Common Council, an area home to many of the mill workers as well. He held numerous positions, including trustee of the Worcester Polytechnic Institute from 1868, succeeding his father-in-law Ichabod Washburn. The funeral procession that commemorated his passing in 1891 reflects its time. Amos Webber, an African American janitor and messenger employed by Moen described funeral events in detail. Moen's body lay for visits at his home while a short distance away "at the Grove St. Works, all was silent; Hush; Be Still; The great Engine was stopped; not a ripple, or an Echo sound was heard; the great Flag swayed to and fro, at half mast" (Salvatore 298). Floral tributes were many, including the lilies that formed the word "Teacher" given by young men's Bible class from Chestnut Street church. The funeral cortege moved through Lincoln Square, then up Grove Street, past North Works until ending at Rural Cemetery. More than 2,400 employees of the firm lined Grove Street from the factory to the cemetery's entrance gates.


Bibliography
Central Committee of the General Congregational Convention (October, 1852). A Book of Plans for Churches and Parsonages. Designs of Upjohn, Downing, Renwick, Wheeler, Wells, Austin, Stone, Cleveland, Backus, and Reave. New York: Daniel Burgess & Company, 1853.
Conant, Kenneth John. Carolingian and Romanesque Architecture 800-1200. 1959. Revised edition. New York: Penguin Books, 1974.
Curran, Kathleen. The Romanesque Revival: Religion, Politics, and Transnational Exchange Penn State Press: 2003.
De Toqueville, Alexis. Democracy in America. trans. George Lawrence. New York: Harper and Row, 1966.
Salvatore, Nick. We All Got History: The Memory Books of Amos Webber. Random House: New York, 1996.