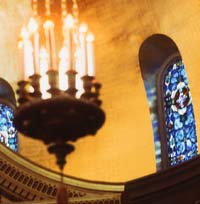 Keeping the Faith:
Four Religious Perspectives on the Creation of Tradition
A comparative dialogue about how different religious confessions approach tradition, and about what the implications of these approaches are for pedagogy and mission.
A conference to be held at the
College of the Holy Cross
September 30-October 2, 2005
The fifteenth annual national conference of the Lilly Fellows Program in Humanities and the Arts will be held at College of the Holy Cross in Worcester, Massachusetts. Presentations will be organized around the theme Keeping the Faith: Four Perspectives on the Creation of Tradition.The conference begins with registration starting at 2:30 pm on Friday, September 30 in the Hogan Campus Center lobby and concludes with a plenary session involving the keynote speakers ending at 10:15 am Sunday, October 2.
Four distinguished scholars and theologians will give plenary addresses: Alan Avery-Peck, Kraft-Hiatt Professor of Judaic Studies and Chair, Department of Religious Studies, College of the Holy Cross; John Thiel, Professor of Religious Studies, Fairfield University; Margaret L. Bendroth, Executive Director, American Congregational Association; and William J. Abraham, Albert Cook Outler Professor of Wesley Studies and University Distinguished Teaching Professor, Southern Methodist University.
A highlight of the conference promises to be Saturday evening's performance of works by world renowned composer Osvaldo Golijov, including sections of his St. Mark Passion, commissioned to commemorate the 250th anniversary of J. S. Bach's death. The magnificent work for chorus, orchestra, and soloists integrates multiple manifestations of Latin America Christianity and Golijov's own Jewish roots in a musical universe which critics and audiences in Europe and America alike praised for encompassing popular and classical idioms. A recording of St. Mark Passion (Hanssler Classic label) received a Grammy nomination in 2002. Venezuelan conductor Maria Guinand, who conducted that performance, will conduct the performance at Holy Cross.
Participants will enjoy the award-winning architecture and landscaping of the Holy Cross campus, set on a hill with expansive views of eastern Massachusetts urban and rural vistas. Sessions will be held in Hogan Campus Center, Rehm Library, and Brooks Concert Hall, with vespers in Mary Chapel and Saint Joseph Memorial Chapel. The Friday evening reception and dinner will be held off-campus in the elegant 100-year-old Renaissance courtyard and contemporary Museum Café of the Worcester Art Museum in historic central Worcester. The first Arlin G. Meyer Prize, this year for a work of imaginative writing in the categories of fiction, poetry, dramatic script or screenplay, or original text for a music composition, will be awarded at the conference.
There is no registration fee for the conference. Participants pay only their transportation. Accommodations (single supplements available on a limited basis) and all conference meals are provided. Faculty and administrative LFP representatives will receive National Conference registration materials directly from College of the Holy Cross. Thomas M. Landy, Associate Director, Center for Religion, Ethics and Culture at Holy Cross (tlandy@holycross.edu), is coordinating the conference.