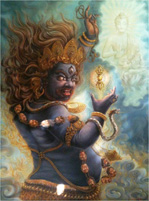 If nothing else is said, and much good can be said about the NEH Summer Institure on the Literatures, Religions and Arts of the Himalayan Region as conducted by Todd Lewis and Leonard van der Kuijp, it must be said that this Institute has caused me to remember that the Catholicism practiced by my grandmother from Killarney has little to do (at least directly) with Aquinas' Summa Theologica. I teach World Religion to high school students. In that capacity what I taught could have been characterized as philosophic or "book" Hinduism - presenting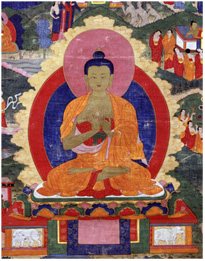 Hinduism as a relatively monolithic belief system - that is, until I went to India with Catholic Relief Services in 2003 and witnessed Hinduism as actually practiced and adjusted my teaching to reflect my experiences there. Yet for some reason (my exposure to Westernized Buddhism?) I did not apply that experiential understanding to my treatment of Buddhism. As a result of this Institute I know I must adjust my teaching to reflect the actual human expression of Buddhism, Buddhism as practiced. Towards that end I will be creating a new section of my course to follow our initial examination of the Hindu and Buddhist Traditions using the knowledge and resources I have gathered here at the Institute. We will call it Himalaya: Indo-Tibetan Contact Zone. In that section my students will be led to undertake certain "case studies", the actual practice of adherents in specific geographic and cultural settings. Beyond leading the students to an understanding of the respective foundational concepts involved, our treatment of these traditions will focus on the categories of puja and ritual, the arts and pilgrimage. A specific section on Pilgrimage in the Himalayan Regions will be added to our discussion of Sacred Places as well as a brief examination of Bon in our look at shamanism. At the suggestion of Prof. Todd Lewis ( Representations of Buddhism in Undergraduate Teaching, 2002) I will lead the students to, "focus on the householder [presenting] the 'Four Good Deeds' alongside 'The Four Noble Truths' [tracing] the three interlocking tracks of legitimate spiritual striving." Later in our coursework, following our examination of Islamic traditions students will again be conducting a "case study" concerning religion as practiced in the Kasmir region.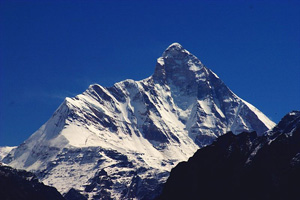 This webpage will be at the center of my coursework for the first half of this year. The process used in those classes will follow that which is often used in the college setting, with the intent of getting the students familiar with that process. The first step will be a presentation of the material, which will be followed by assigned readings in support of that material and then a discussion to ensure comprehension. Not all readings in a given section will be assigned to all students, but rather these will be assigned according to class, level, recognized capabilities and student interest. In doing the "case studies" each group will be given the resources - a movie, a core text, and recommended further readings - by which to do their research into the religious practices of the specific group or region being investigated.