July 5th - July 31st, 2015
Send completed applications to:
Prof. Todd Lewis
Box 139-A
College of the Holy Cross
1 College St.
Worcester, MA 01610-2395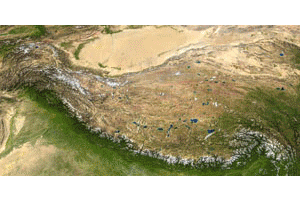 Welcome
Invitation to our Institute:

Welcome to the web site for the Summer 2015 NEH Summer Institute, "Literatures, Religions and Arts of the Himalayan Region!" This will be the sixth time it will be held at Holy Cross, in Worcester, Massachusetts. We are making detailed preparations for it to be successful for the twenty-five K-12 educators teachers who work in a variety of subject fields. Please carefully look over our the schedule and application information, and do not hesitate to contact us with any questions. We hope that all interested teachers, librarians, and administrators will apply.

Professor van der Kuijp and I have designed this four week course to be a comprehensive inter-disciplinary overview of this remarkable region defined by the world's highest mountain range. We are bringing the finest scholar-experts from across the world to contribute, focusing on themes and case studies that will be of special interest to teachers and relevant to their teaching in many teaching areas:

Curriculum Topics:

♦ Religion: Overviews of Hinduism, Buddhism, and Islam
♦ History: Tibet and Nepal
♦ Art history: Visits to museums and monasteries
♦ Geography and Ecology of the Himalayan region
♦ Literatures of the region, traditional and modern
♦ Recent developments in politics, from Afghanistan and Pakistan, to Tibet
♦ Himalayan religious rituals, food traditions, childhood customs

You can click to see a detailed schedule and see how our curriculum is interdisciplinary in scope, in a creative format the mixes expert lectures with participation in fieldtrips, feasts, and rituals. We have found that there is a wonderful alchemy in the span of topics we have chosen. If you bring inquisitiveness about the Himalayas, Tibetan peoples, Afghanistan, and mountain adventure, our Institute provides the experts and their extraordinary expertise for you to turn students' initial awareness toward more in-depth understandings.

We will also provide assistance for each participant to design web pages to publish their personalized curriculum plans on the Institute web site. (For curricular plans designed by the 2002, 2004, 2006, 2008, and 2011 Institute teachers, please visit the Previous Institutes section of this website.)

Teachers will earn 130 certified continuing education hours through the Holy Cross Education Department, and can earn 12 hours of master's degree course credit through Clark University.
Feel free to contact us or any of our over 125 former participants directly about their experience studying with us. We encourage you to apply to join us in July!
NEH Application Information and Instructions
| | |
| --- | --- |
| Todd Lewis, College of the Holy Cross | Leonard van der Kuijp, Harvard University |
| | |