Literary Landscapes of Buddhism
Using Buddhist art, iconography, and texts to teach reading and writing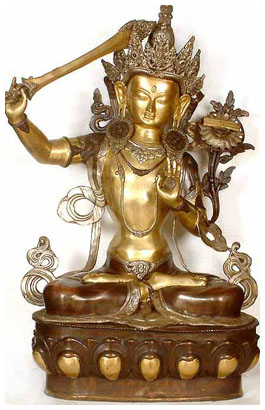 Manjushri, bodhisattva of Wisdom, leads followers on a journey to discover the true nature of reality. In his right hand he wields the double-edged sword of logic and in his left the text of the teaching on emptiness. There is no better starting point in discovering the means and modes, the functional abstractions of Himalaya's Buddhist narratives.
The literary landscape of Buddhism in the Himalayas is as mysterious and alluring as the majestic mountainscape that physically defines the region, as deep and diverse as the vibrant people that breathe life into the cultures of this world, and as elusive and shifting as the foundational concepts of this religion.

A journey through this region's "literature" must first wind its way through the bedrocked iconography of stone and stele, must decode the dizzyingly colorful thangkas that have broken free from the confines of grey schist and coarse sandstone, and must tread lightly through the structured architecture of short-lived mandalas, before finally reaching poetry and prose, the written word too often strangled by translation and limited by ideology.
" ... after observation and analysis, when you find that anything agrees with reason and is conducive to the good and benefit of one and all, then accept it and live up to it." -- Shakyamuni
Susan Morrison
morrison_s@hcde.org
http://www.easthamiltonhurricanes.com/
Manjushri