Click to go back to
the Church Diagram

Click to go back
to the Church View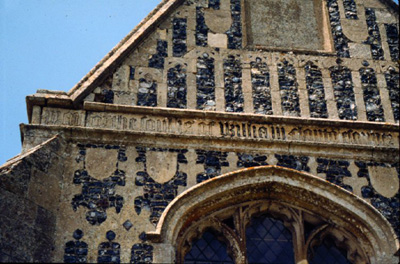 4a Long Melford, Holy Trinity Church, detail of Lady Chapel, 1480s-90s. The exterior of the church displays stone courses with invocations set in flushwork. Inscriptions are in dark flint against stone, asking for prayers for the founders of the reconstruction and their households: pray for ye sowle of john hyll, and for ye sowle of john clopton esqwyer, and pray for ye sowle of richard loveday, boteler with john clopton.

Margery Kempe (Ch. 85) is granted a vision of an angel who shows her "the Book of Life." She, with characteristic confidence, wants to see her name and the angel points it out "written at the Trinity's foot." Named dedications were a much sought-after privilege.

4b Bury St. Edmunds, St. Mary's, hammerbeam roof, details of angel and brace.