Global Encounters in Early America - Events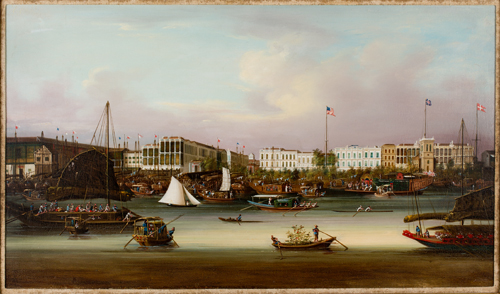 Painting of Canton Waterfront, image courtesy of the American Antiquarian Society
Thursday, February 20
Introduction to the Exhibition, 4:00 – 5:00 p.m., Rehm Library

Opening remarks by Patricia Johnston and Holy Cross student curators; and Lauren Hewes, Andrew W. Mellon Curator of Graphic Arts 
American Antiquarian Society.

Opening Reception, Thursday, February 20, 5:00 – 7:00 p.m. (snow date February 27)
Saturday, March 15 - RESCHEDULED TO APRIL 5
Global Encounters workshop for schoolteachers, speakers include Patricia Johnston; Charles Newhall, St. John's Preparatory School; and Eric Jay Dolin, author of When America First Met China and Leviathan
Co-sponsored by the American Antiquarian Society and the New England History Teachers Association. Registration fee of $20 also includes April 4-5 conference.
Hogan Center Suites A, B and C, College of the Holy Cross.
For registration visit the symposium page or email artsRSVP@holycross.edu

Thursday, April 3
An Apostolate of Books: Jesuits, Their Publications and Their Travels through Asia and the Americas
Jeremy Clarke, S.J., Boston College and the Australian Centre for China in the World, Canberra.
The Aesthetics of Tea. Romita Ray, Syracuse University.
Hogan Center 519. 4:00 – 5:00 p.m.
Reception following at Cantor Art Gallery. 5:15 – 6:15 p.m.

Friday and Saturday, April 4-5
Global Encounters in Early America, an international symposium sponsored by the Terra Foundation for American Art.