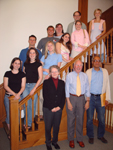 The course was designed to be an introduction to Worcester and more broadly to the urban environment in general. It approached topics of inquiry not so much with the illusion of a comprehensive overview, but to exemplify vital issues of urban dynamics. The course challenged the student to recognize data, in written, oral, or visual form, and to gain familiarity with ways of organizing and addressing evidence. By using a paradigmatic approach, we hoped to develop critical thinking, giving the student the experience of posing a question and being guided through methods of inquiry. Students were challenged to confront real and ongoing concerns of community life. With that engagement it is hoped that they achieved a greater sense of intellectual independence and of delight.
Worcester's city and its people were addressed through direct contact in the form of six three- hour group class visits, to industrial site, church, library, private home, civic institution, and school. Through drifting snowflakes we looked upon the towering presence of what was once the Whittall Mills of South Worcester. We walked through the homes of James and Orlando Norcross, current facilities of Clark University's Center for Technology, Environment, and Development (CENTED). We heard first hand from the parishioners who prevented the destruction of St. Joseph's church serving a Franco-American community and we felt the sense of community as we shared a soul food diner at John Street Baptist church. We stood in front of the first Catholic church of the city, St. Johns built to serve Irish laborers, founded by Rev. James Fitton, founder of our own Holy Cross. The past and the struggle to study, preserve, and to communicate the material culture of the city has been constantly with us. We saw the small but vibrant worship community of St. Matthew's church confronting the task of preserving and communicating its extraordinary artistic heritage of architecture and stained glass and the work of both Preservation Worcester and the Worcester Historical Museum. The extraordinary Greek Revival architecture in individual homes, now community institutions made a deep impression. Through our engagement with the specific environment of Worcester, we looked at the role of the past and present to the future of the city.
The course was team-taught by Virginia C. Raguin, Professor of Art History, Thomas Doughton, Instructor in the Center for Interdisciplinary and Special Studies, and John B. Anderson, Professor Emertitus of History and former mayor of Worcester. Cooperation of many individuals especially Mark Savolis and Lois Hamill of the College archives, the Donelan Office of Community-Based Learning, ministers of neighboring churches, office of the President, Clark University, the Worcester Historical Museum and Preservation Worcester. The website has been implemented by Mary Morrisard-Larkin and Margaret Nelson, Educational Technology Group, College of the Holy Cross. We hope that the material from Worcester and Its People will serve as an indication of the breadth of the city's culture.

UNIT 1 Holy Cross/South Worcester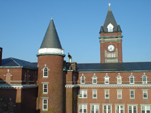 Lectures: Packachoag as one of Rev. John Eliot's 'Praying Towns' of Christianized Indians; Fitton, Fenwick and building of HolyCross Fenwick begun 1844 in brick & granite with rebuilding and expansion 1853; enlargement 1867 in Collegiate Gothic Style (Elbridge Boyden architect; favored by Catholics, built Worcester's cathedral of St. Paul 1869); enlargement 1875 (Patrick W. Ford, architect; also built St. Peter's Catholic Church, 929 Main Street in 1893); Commencement Porch in Georgian Revival style added 1907; Early Catholic history in Worcester; St. John's Church (only extant Greek Revival church in Worcester); Sacred Heart Church; early industries in South Worcester; Quinsigmond Village; Matthew Whittall; other industries in the neighborhood; Architecture of St. Matthews Church, supported by Whittall, reproducing an English Country Church for English immigrant mill workers; South Worcester in the 20th century; land takings for 290 and the neighborhood; contemporary South Worcester.
Core Readings: Selected pages from Spires of Fenwick, Kuzniewski's Thy Honored Name; Sacred Spaces catalogue of the exhibition, Worcester 2002; Sacred Spaces: Guide to Nineteenth-Century Sites of Worship in Worcester
Tues. Jan 27 Lecture:
Wed. Jan 28 4-7 Practicum
Thurs. Jan 29 Reflection on the lectures, readings and practicum
Tues. Feb 3 Lecture
Wed. Feb 4 NO meeting, by 6 PM Position Papers for Unit 1 posted on Blackboard
Thurs. Feb 5 Discussion of Position Papers for Unit 1
UNIT 2 From Village to City/ Ante Bellum Worcester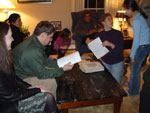 Lectures: "Settling" of Worcester; creation of Worcester County; Worcester in the 18th century; Worcester & the War of Independence Worcester's urban and industrial growth in the first half of the 19th century; local commerce; Blackstone Canal and development of Worcester as railroad center; creation of local cultural institution; Mechanics Association and building of Mechanics Hall; newspapers & book publishers; Women's Convention; reform movements and local radicalism; Know-Nothings; Free Soil Party; Republican Party; growth of Worcester early neighborhoods and their relationship to contemporary residence patterns Rural Cemeteries and the concept of spiritual and social improvement, the Greek Revival for courthouse and home.
Core Readings: Selected pages from Worcester historians Lincoln, Wall & Nutt; selected pages from Carolyn J. Laws, Women and Reform in a New England Community 1815-1860; John McClymer's This High and Holy Moment, The First National Woman's Right Convention…; selected pages from Charles G. Washburn' s Industrial Worcester; selected pages from Margaret Erskine's Worcester, Heart of the Commonwealth; Stanley French, "The Cemetery as Cultural Institution: The Establishment of Mount Auburn and the 'Rural Cemetery' Movement," from Death In America; David Charles Sloane, "Mount Auburn and the Rural Cemetery Movement," from The Last Great Necessity; Upton, Architecture in the United States, 114-125; selections from Talbot Hamlin, Greek Revival Architecture in America; selection from Minard Lafever The Young Builder's General Instructor, 1829 revised as The Modern Builder's Guide, 1833; selections from Alexander Jackson Downing's Landscape Gardening and Rural Architecture.
Tues. Feb 10 Lecture
Wed. Feb 11 Practicum
Thurs. Feb 12 Reflection on the lectures, readings and practicum
Tues. Feb 17 Lecture
Wed. Feb 18 by 8 PM Position Papers for Unit 2 posted on Blackboard
Thurs. Feb 19 Discussion of Position Papers for Unit 2 (Raguin at College Art Association, Seattle)
UNIT 3 Worcester's African Americans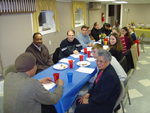 Lectures: General overview of African American experience in the region; slavery in Worcester and Worcester County; African Americans in the War of Independence; Barre slave case; local African Americans in Early Republic period; African American political activism in antebellum period; relationship between African Americans and Nipmuc Indians; migration to Worcester; African Americans in Civil War; Worcester's black community from Reconstruction through twentieth century; Visual representation of minority culture by a dominant culture
Core Readings: Selected pages from Lorenzo Greene, The Negro in Colonial New England; Doughton chapter, "Bondage and Bondsmen in Central New England "; Doughton, "Unseen Neighbors" from Calloway, ed., After King Philip's War; selected pages from Salvatore, We All Got History
Documents: Distributed to students by Prof. Doughton
Tues. Feb 24 Lecture
Wed. Feb 25 Practicum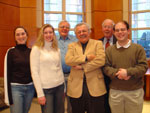 Thurs. Feb 26 Reflection on the lectures, readings and practicum
Tues March 2 Lecture
Wed. March 3 NO meeting: by 6 PM Position Papers for Unit 3 posted on Blackboard
Thurs. March 4 Discussion of Position Papers for Unit 3 REQUIRED LECTURE 4 PM Nick Salvatore on his book We All Got History, the biography of Amos Webber: open to general public
Friday March 5- March 14 SPRING BREAK
UNIT 4 Immigration and Immigrants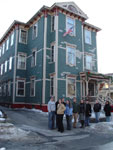 Lectures: Immigration to Worcester from Ireland; early Irish experience in Worcester; earlier history of Catholic Worcester; Irish and Irish-Americans in the Civil War; Irish men and women at Worcester making a living; Irish participation in the Democratic Party and local ethnic political history; Irish Catholicism and Gothic Revival buildings (Cathedral of St. Paul; St. Stephen's); Franco-Canadians as Worcester's second, large Catholic immigrant group; Franco-Canadian social, cultural and political organization; immigrants and Worcester neighborhoods; Catholic parishes and immigrants; Catholic devotional visual culture; Middle Easterner immigration; "new Americans" and contemporary Worcester neighborhoods
Core Readings: Selected pages from Powers's Invisible Immigrants: The Pre-famine Irish Community in Worcester…1825 to 1860; selected pages from Meagher, Inventing Irish America; Worcester historians Lincoln, Wall & Nutt; Sacred Spaces Catalogue and Guide to Nineteenth-Century Sites of Worship in Worcester; selected pages in Elizabeth Boosahda's Arab-American Faces and Voices: The Origins of an Immigrant Community.
Tues March 16 Lecture;
Wed. March 17 Practicum
Thurs. March 18 Reflection on the lectures, readings and practicum
Tues March 23 Lecture
Wed. March 24 3 NO meeting: by 6 PM Position Papers for Unit 4 posted on Blackboard
Thurs. March 25 Discussion of Position Papers for Unit 4
UNIT 5 Gilded Age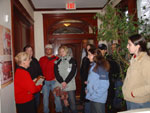 Lectures: Later 19th and early 20th century Worcester; growth of local industries; solidification of social, cultural and economic elites in Gilded Age Worcester; creation of new local service institutions like the Boys Club and YMCA; proliferation of local cultural institutions and fraternal organizations/ secret societies; continued immigration to Worcester; leisure time activities & popular culture of the period; domestic architecture of the period typified by elegant mansions of the wealthy and three-deckers of working men and women; local labor organizations and activities. Women's Club, Josephine Wright Chapman, architect of Worcester Women's Club, 1902 designed in Adamesque Revival style; YMCA; Romanesque Revival in the work of Stephen Earle; Picturesque and Institutional form of Romanesque Revival in Central Congregational Church, Pilgrim Congregational Church, Worcester Historical Society; Domestic architecture in the homes of Matthew J. Whittall and the Norcross Brothers.
Core Readings: Selected pages from Meagher, Inventing Irish America; selected pages from Roy Rosenzweig's Eight Hours For What We Will: Workers and Leisure In An Industrial City, 1870-1920; selected pages from Franklin Rice, ed., Worcester Eighteen Ninety-Eight; selected pages from Nutt's Worcester history; Norma Feingold, ed. Water Street, A World Within A World; selected pages in Salomonsson, ed., Swedes of Greater Worcester; selected pages in Strength in Diversity: Worcester's Finnish Community: A Collection of Photographs and Recollections: Upton, Architecture in the United States, 17-47, 255-262.
Tues March 30 Lecture
Wed. March 31 Practicum
Thurs. April 1 Discussion Group
Monday April 5 by 6 PM Position Papers for Unit 5 posted on Blackboard
Tues April 6 Discussion of Position Papers for Unit 5
Wed. April 7 NO meeting
Thursday April 8 - Monday April 12 EASTER BREAK
UNIT 6 20th-century Politics and Local Government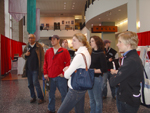 Lectures: Union Station as example of urban Beaux-Arts architecture, recently renovated through Preservation Movement efforts
Tues April 13 Lecture John Anderson
Wed. April 14 Practicum Centrum, Union Station, Worcester Fashion Outlets,
Thurs. April 15 Discussion of the lectures, readings and practicum
Tues April 20 Lecture John Anderson
Thurs. April 22 Discussion of readings
Friday April 23 11-12:25 Presentation at Academic Conference
Tues April 27 Lecture/ Discussion to include John Anderson
Wed. April 28 Practicum: Reflection on Course
Thurs. April 29 Discussion
Tues May 4 Raguin/Doughton reflections on course
Wed May 5 Study period
Exams May 14 Students' Final reflection paper on Worcester presentations and critique of course

.