The Himalayas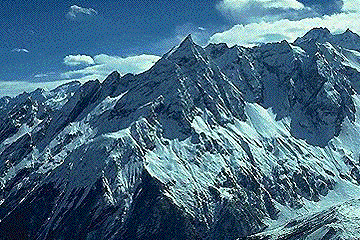 The Himalayan region (see Map 1), (see Map 2) is the boundary of the Indic and Tibetan/Chinese civilizations living in a mountainous area.
Himalayan Facts
The Indic civilization is dominated by a caste system brought over from Hindu India.
Tibet, once an independent state now controlled by the Chinese, is largely Buddhist. Tibetan Buddhism relies on a lama-layman system currently overseen by the Dali Lama now living in exile.
The Bon religion, which has its roots in ancient Tibet, and other folk religions and religious practices flourish in this mountainous region.
There is a Muslim presence as well.
These Indian and Chinese civilizations have interacted throughout Himalayan history over the past millennium and a half.
This young mountain range (25 million years old) is still rising.
Tropical heat and artic cold occur within 50 miles creating a rich variety of life unique on earth.
How do most people live?
The terrain creates social isolation and minimizes contact with neighboring regions.
Isolation and inaccessibility are responsible for slow penetration of technology.
Many people of The Himalayas rely on hunting, fishing and gathering wild foods.
Nomadic pastoralism, living itinerantly with herds of animals, provides a small community's subsistence.
Many people live as farmers with common cash crops as barley, ginger, cotton, jute and tea.
Some trade in wool, salt, tea, sheepskins, furs, dried meat, carpets, wool cloth, silks, and so on.
Life is often difficult as weather, crops, the terrain, etc. can mean life or death to a family.
(Source: The Himalayas: A Syllabus of the Region's History, Anthropology, and Religion, by Todd T. Lewis and Theodore Riccardi, Jr. Association for Asian Studies, Inc.
Do women fare the same as men?
This is the question to be explored. Women's roles vary from region to region, caste to caste, religion to religion, family to family. We can explore this question further by reading the following excerpts. Come up with your own conclusions.