Audio Resources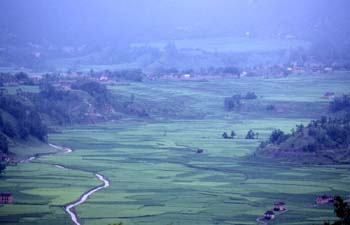 Here is a list of recordings that you may wish to consider when looking for music from the Himalayan Region.
Good luck, and happy listening!
Topic: Silk Road
Silk Road Journeys: When Strangers Meet, by Yo-Yo Ma and Silk Road Ensemble
Silk Road Journeys: Beyond the Horizon by Jason Duckles, Yo-Yo Ma, Fikret Amirov, Sandeep Das, and Sandeep / Dey, Indrajit Das
Silk Road Journey: Yo-Yo Ma
The Silk Road: A Musical Caravan: Smithsonian Folkways SFW 40438
Bukhara: Musical Crossroads of Asia: Smithsonian Folkways SFW40050
Silk Road Project Web Page
Silk Road Encounters: A book and CD set funded by the Ford Foundation

Topic: Pakistan, Qawalli
Just about anything by Nusrat Fateh Ali Khan. He sings Sufi chant from a traditional style to a more modern blend of music elements. He also sang on Peter Gabriel's soundtrack to "The Last Temptation of Christ." Recommended albums include "Mustt Mustt" (modern) and "Body and Soul" (his final recording, more traditional).
Topic: Nepal
Music of a Sherpa Village: Smithsonian Folkways FWO4320
Nepali Songs.com: A range of Nepail music from traditional to modern. Some free downloads.
Nepali Songs.net: Similar offerings as Nepali Songs.com.
Songs and Dances of Nepal: Smithsonian Folkways FW04101
"Himalayan Herders," a movie by Naomi Bishop
Topic: Tibet
Soundtrack: Himalaya (also a fine movie)
Lama Tashi: Tibetan Master Chants: An excellent recording of Tibetan throat singing
The University of Minnesota has been documenting Tibetan culture in the Twin Cities. Click here to find out more about Tibetan cultural/musical traditions as expressed in the Midwest.
On the Web
The Government of Tibet in Exile's "Songs for Official Ceremonies"
Buddha Net: Meditation, Chant, and Instruction on mp3
Tibetan and Himalayan Digital Library: a thorough resource for mp3s...chant, talks, songs, videos, and more!