Buddhist Ritual Instruments

Tibetan mandala
Traditional instruments of Tibet range from the familiar to the more exotic. They can also be found in villages in Nepal and Bhutan, as modern Asian boundaries do not necessarily demarcate traditions and societies. They are used in Buddhist ceremony to focus the mind, entreat spirits, and provide drones and melodies. You can see almost every instrument listed here (except for the dung-dkar) in Naomi Bishop's "Himalayan Herders," a documentary about a small village in Northern Nepal.
TINGSHA: a small pair of hand cymbals that are attached with a string or leather thong. They assist with meditation, healing, cleansing, and alignment. In ritual, they can also offer compassion and generosity to the hungry ghosts, suffering from desire. They define the beginnings and ends of periods of meditation, and the beginnings of presentations at NEH: Cultures and Religions of the Himalayan Region at Holy Cross.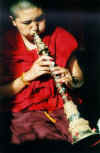 GYALING: an oboe-like double reed instrument which is similar to the shawm. It usually plays a three or four-note pattern with a series of flourishes, played with a dramatic vibrato.
DRILBU: small hand bell. This bell is always played in the left hand at heart level. The bell is often used to signify the impermanence of everyday existence, and the wisdom one must develop in order to appreciate this.
DAMARU: an hour-glass shaped drum made of wood. The damaru has two strings atached to it with small pellets on the end, allowing someone to play the damaru by swiveling the drum back and forth. The sound recalls the union of compassion and wisdom. Historically the DAMARU was made by placing membranes over two human skullcaps. Also known as TON DHAR.
RGNA: a drum suspended in a frame or on a pole, played by striking it with a crooked stick.

ROLMO: Cymbals with broad central bells, held one above the over and struck by vertical movement.

SILNYEN: Cymbals with small or no central bells, struck by horizontal movement. Both ROLMO and SILNYEN cymblas give a percussive rhythm to a chant, and are also played at the ends of offerings or prayers with a series of clashes and accelerating rolls. At the end of offerings or prayers, they signify the offering of pure music to enlightened beings.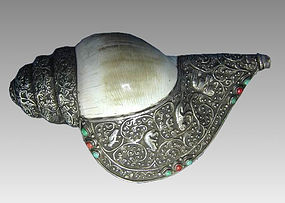 DUNG-DKAR: A shell horn made by removing the top spiral of a conch. Provides a drone or a short call. It can be decorated, as seen on the left, with metals and precious or semi-precious stones.
KANGLING: a short horn made from metal that plays a drone or short call to summon hungry spirits and demons so that he or she may satisfy their hunger, thereby relieveing their sufferings. Historically it was made from a human thigh-bone. Also known as RKAN-DUN.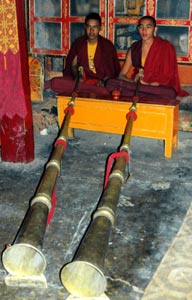 DUNGCHEN: a long, copper trumpet made of several sections. These sections telescope to allow for easy portability. This instrument typically provides a drone, and two or three of them are often played at a time to allow for continuity of sound. Also known as RAG DUNG.