Himalayan Chant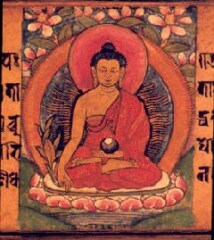 Teaching Chant offers a number of benefits for both the Music student and the teacher. Chant's existence in every single culture as a vocal expression of faith, unaccompanied by instruments (a cappella), provides an interesting way to look at many different cultures. Students can compare and contrast styles, phrase lengths, and discuss how chant of a particular culture can indicate the aesthetic values of a people. While some commonly known chant includes Gregorian chant, Qu'ranic chant, and Hebrew Cantillation, there are many more to examine. Hopefully these examples will provide some cultural and musical insight for you and your students.
While Tibetan Throat Singing is probably the most well-recognized chant from the Himalayan regions, it is only practiced by monks in the Drepung Loseling Monastery, a Tibetan moastery located in South India. This type of chant is marked by its deep fundamental tone, and the ability or its practicers to strengthen the production of overtones in their voices by manipulation of their ventricular folds and oral cavities. For a more thorough description, click here.
Click here for a short recording of Tibetan Throat Singing.
Click here for a page of video downloads of Throat Singing from around the world. Scroll down to find Tibet.
Traditional Buddhist Chant uses a more familiar singing style. Here is an example of some common Buddhist Chant from Nepal.
Click here for a beautiful chant that reflects appreciation for nature and living a life detached from the common worries of everyday life. Here is the original text in Tibetan. A section of the song translates as follows:
"All sides have been decorated with meadows and juniper trees.
In front, the rock mountain has been adorned as if with heaps of jewels.
From all the slopes. cool water falls from within the clay rocks.
Behind, peaks of grass-covered mountains touch the sky.
In all directions, [it] is surrounded with small mountains.
Since waters in the lower parts of the walleys battle with rocks, [they] guard the entrances [to the mountain].
Shapes wind together like a big divine drum.
Grouses sing kyur kyur mellifluously.
Small songbirds trade various types of calls back and forth.
Six-legged bees say "buzz buzz."
Wild animals with very beautiful bodies run happily.
Various trees enchant with supple dances." (from Tibetan Songs of Realization, V. Sujata)